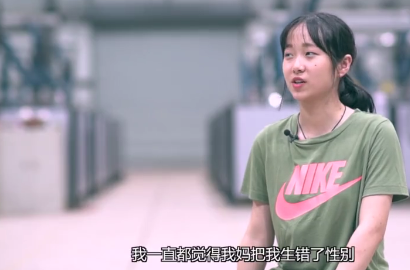 "Welding is my favorite career," said Zheng Lian, a 20-year-old girl from Changzhou, East China's Jiangsu province.
The young girl has surprised many Chinese netizens recently with her story of striving for a welding career, which is stereotyped as a "man's job" in a number of people's eyes, and won much admiration from them and those around her.
Zheng developed an early interest in welding when she was a child.
"I lived in an industrial park in my childhood and often saw workers welding on the roadside. My mother always dragged me away and stopped me from watching. But I could not help taking a peek at their work as the sparks looked like fireworks to me," Zheng recalled.
After finishing junior high school in 2014, Zheng made the unusual decision of going to a vocational school and learning welding techniques, instead of resuming high school and applying for college years later, like most Chinese students.
"I need to spend five years in school learning welding and I am one of the only five girls in my class of 38 students," she said.
The school has an elite team of welding students who are provided with more advanced training and prepared for the national and international welding competitions. But only three to four students majoring in welding can be selected to enter the team every year.
Zheng also wanted to join and signed up for the new round of recruitment in the beginning of 2015.
However, worrying that girls cannot go through the hard and laborious training, Zhang Tingwang, the coach, disappointed her hopes with the excuse that girls are not strong enough for welding by his standard.
"She immediately asked to do arm wrestling with me and showed me her strong grip strength," the coach said.