Documentaries review efforts to secure their extradition, return of filched funds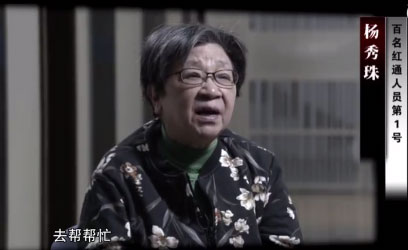 Yang Xiuzhu, China's most-wanted fugitive, talks about her experiences while on the run on a CCTV documentary about operation "Sky Net".
"I felt greatly relieved after returning to China. My life as a fugitive had finally ended," said Huang Haiyong, an economic fugitive who was extradited from Peru in 2016 after spending 18 years on the run.
Huang, former head of Yuwei Trading Industry Co Ltd in Shenzhen, Guangdong province, stands accused of smuggling goods worth 1.22 billion yuan ($179 million) and evading 717 million yuan in taxes. He fled to Peru in 1998 and was detained there in 2008. China then started an eight-year extradition process for his return to face trial.
Huang's story was related in detail for the first time as China Central Television began airing a five-episode documentary on Thursday on China's arduous efforts to hunt fugitives who fled abroad.
With the support of the Communist Party of China Central Commission for Discipline Inspection and the National Supervisory Commission, the production team went to 17 countries and regions, including the United States, Britain, New Zealand, Kenya and Peru to shoot footage. The series, named Red Notice, covers 15 high-profile cases and presents a large number of interviews with Chinese and overseas law enforcement officers.
To evade extradition back to China, Huang hired an experienced lawyer in Peru. "(The lawyer is) very famous in Peru, and very expensive-$30,000 for each court appearance. He told me not to worry about being extradited, because that's impossible," Huang said in the documentary.
However, Huang didn't expect the process would last for eight years, during which time he was detained in a local prison.
"I was so afraid. ... I couldn't speak the local language and didn't know what to do. I was surrounded by criminals, most of them drug dealers," he said.
Gao Bo, deputy head of the CPC Central Commission for Discipline Inspection group stationed at the Chinese Academy of Social Sciences, said the documentary shows China's resolute determination to bring fugitives back to face justice, no matter where they escape to.
Last year, China's global anti-corruption manhunt repatriated 1,335 fugitives and recovered 3.54 billion yuan in illegal gains, figures released by the CCDI on Thursday show.
They included 307 former members of the CPC or government employees, according to the CCDI and National Supervisory Commission.
Five of the 307 were on the Inter-pol Red Notice of the 100 Chinese corruption fugitives most wanted by China.
Amid a renewed anti-corruption drive, China has run its "Sky Net" manhunt program for four years, focusing mainly on tracking down corruption fugitives and recovering illegal assets from overseas
Sky Net has secured the return of more than 5,000 fugitives from over 120 countries and regions, including 56 fugitives on the Interpol Red Notice, according to the CCDI and National Supervisory Commission. It has recovered more than 10 billion yuan.