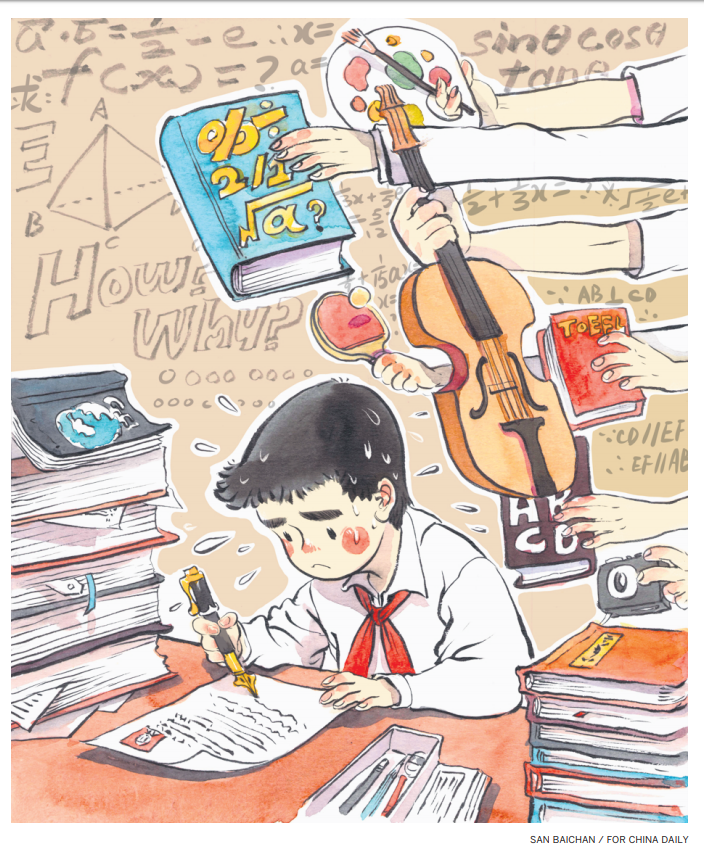 More middle-income families are sending their children to international schools. Zhang Yangfei reports.
The young applicant from Shanghai appears a very strong candidate if you scan his glamorous 15-page resume.
He has excellent language skills: he can recite more than 100 traditional Chinese poems and read more than 500 books in English a year.
He excels at science: he loves solving Sudoku puzzles and enjoys reading about logical reasoning and geometry. Moreover, he has gained a basic grounding in the theories of density, magnetism and gravity through experiments.
He is also gifted at arts and sports: he plays piano, loves dancing and has produced more than 150 drawings and paintings. He also loves soccer and swimming, and has reached a high level of proficiency at Go, a strategic board game that is popular across Asia.
In terms of personality, he describes himself as vibrant, confident, curious, resilient, friendly and considerate.
However, this person is not a passionate job seeker-instead, he is a 5-year-old boy hoping to win a place at the prestigious Shanghai Starriver Bilingual School.
When the resume was leaked online in early November, it sparked heated debate. Some netizens said it outshone the resumes of many first-class university graduates, while others doubted if such a busy child could really be happy.
However, the boy's family is just one of many affluent households in which the parents are turning away from China's traditional exam-oriented education system and embracing more international and diverse methods.
Relative normality
Though the length of the boy's resume and the experiences listed may appear exceptional or even daunting, they are actually relatively normal among applicants for private bilingual or international schools, according to Li Ai, director and founder of Beijing Blossoming Kids Co, a provider of after-school education in the capital.
Li, who spent more than 10 years as a teacher at an international school in Beijing, said that after 2008 she noticed a sharp rise in the number of Chinese, as opposed to Western, children joining her class.
Recognizing the burgeoning private market, she left the school in 2016 and founded her company to offer extracurricular classes in English and math to help Chinese children better adapt to external courses such as the international baccalaureate diploma program, which is used across the globe, and A Levels, which are primarily used for university entry in the United Kingdom.
The company also helps to prepare applications to international schools in China. According to Li, some students' resumes can easily stretch to 10 to 20 pages and sometimes parents even attach a video.
"When parents come and tell me which school they want their child to attend, I ask them if the kid has studied piano or general arts, and question them about the child's interests and how they display them," she said.
An interest in such activities as Peking Opera and charity art exhibitions are among the must-haves for a child to secure a place at a select international school, she added.
Though some observers may be concerned that these experiences will add to the burden on youngsters, many parents believe that a wide range of skills provides more opportunities for children, whose potential talent can be better discovered this way, compared with exam-oriented education.
"We are not asking him to be an expert in every area of his studies. We just want him to get a taste of various subjects so he will be more ready to make his own choices in the future," the parents of the 5-year-old boy wrote in a note in his resume.
Discipline, competition
The Chinese education system has long been known for strict discipline and intense competition. Every June, more than 9 million students sit the gaokao, the demanding three-day national college entrance exam that determines the university they will attend and effectively seals their career path and social status.
The competition starts at a very young age as parents scramble to earn their child a spot at the best kindergarten in their city, which, in turn, provides entry to top-performing primary and secondary schools and eventually gives the child an advantage in the gaokao.
From International Math Olympiads to calligraphy contests and spoken English competitions, students at every level fight hard to pocket as many awards as possible to win the favor of their dream schools.
"This is very typical of Chinese-style early education," said Xiong Bingqi, deputy president of the 21st Century Education Research Institute.
"Not wanting to be left at the starting line, many parents begin to cram their children with extracurricular courses as early as possible so they get an edge over their peers."