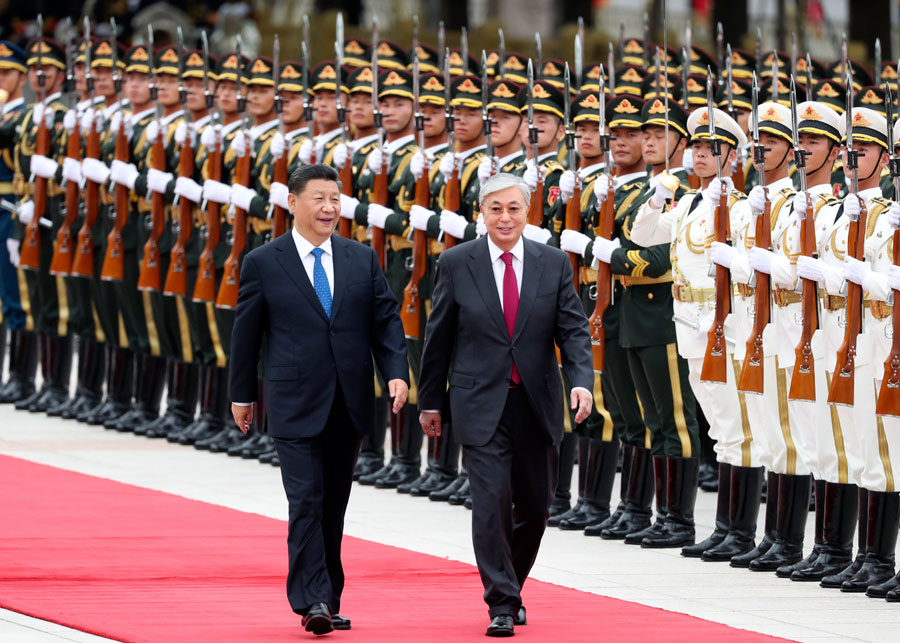 China and Kazakhstan agreed on Wednesday to develop a permanent comprehensive strategic partnership, a diplomatic relationship that never appeared in China's definition of bilateral ties before.
The decision came as President Xi Jinping held talks with Kazakh President Kassym-Jomart Tokayev at the Great Hall of the People in Beijing.
The Kazakh leader, who speaks fluent Chinese, is making his first state visit to China from Tuesday to Thursday.
Xi and Tokayev signed a joint statement after their talks. Witnessed by the two presidents, China and Kazakhstan signed a number of cooperation documents covering such areas as the Belt and Road, agriculture, trade and civil aviation.
Hailing the China-Kazakhstan relationship as a model for friendly ties among neighbors, Xi said that China would like to deepen cooperation with Kazakhstan in all areas, boost interconnectivity, upgrade trade and economic cooperation, expand science and innovation cooperation and strengthen people-to-people exchanges.
The two countries should firmly safeguard multilateralism and open global economies and make positive contributions to building a fairer global governance system, Xi said.
He called on the two nations to promote the Shanghai Cooperation Organization to play a more positive role in regional and global affairs, enhance security cooperation, work together to fight the three evil forces of terrorism, separatism and extremism, and join hands to deal with challenges.
In the talks, Xi said that the Communist Party of China, which has led the Chinese people to glorious achievements in the past 70 years, is leading the Chinese people to strive for the great goal of national rejuvenation.
Noting that the process of national rejuvenation will never be smooth, Xi said no matter how the external situation changes, China will keep its strategic focus on its own issues, deepen overall reform, boost opening-up and promote high-quality growth.
China has the capability to deal with all risks and challenges, and no difficulties or obstacles will hinder the country's progress, Xi said, adding that a stable, open and prosperous China is an opportunity for the development of the world.
Tokayev congratulated Xi on the 70th anniversary of the founding of the People's Republic of China.
The great achievements made by China in the past decades have not only benefited the Chinese people but also contributed to the development of the world and promoted the progress of mankind, he said.
Kazakhstan firmly supports the Chinese government and people to safeguard their national sovereignty, security and interests, he said.
Kazakhstan expects to deepen cooperation with China in such areas as trade, infrastructure, energy and 5G technology, and promote people-to-people exchanges, he added.