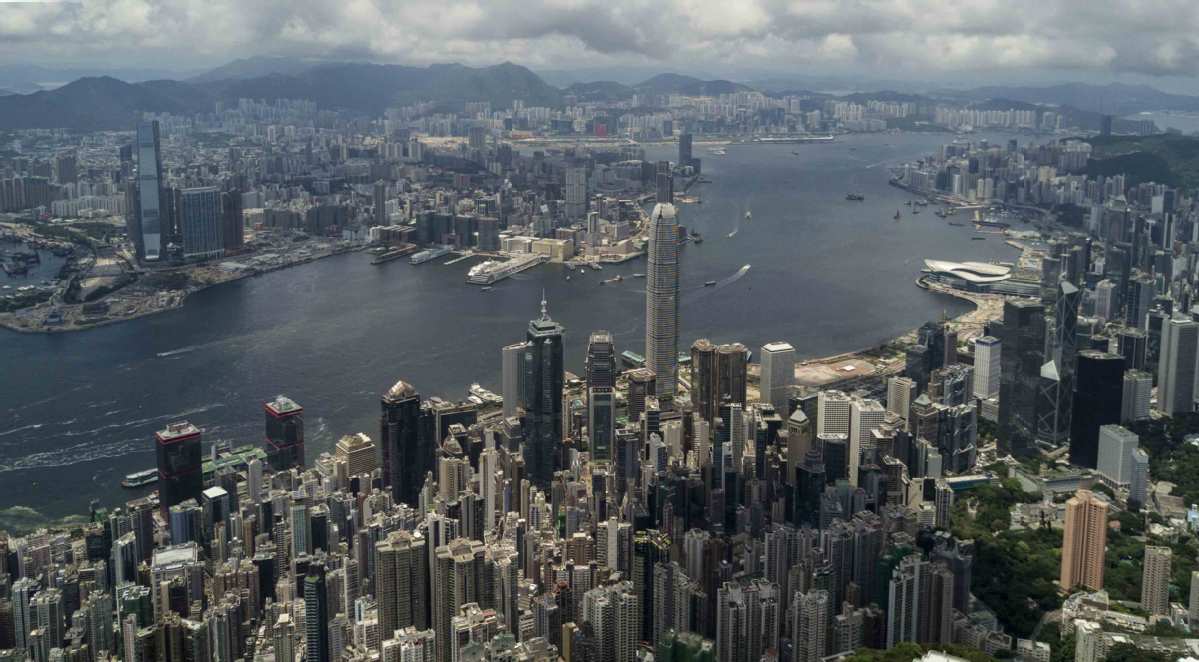 Businesses in Hong Kong — suffering because of the Sino-US trade tensions and three months of protests — should seek more opportunities in the Guangdong-Hong Kong-Macao Greater Bay Area, the Hong Kong Productivity Council said.
Mohamed Butt, the council's executive director, said on Wednesday that the trade conflict and recent social unrest are hurting the city's 340,000 small and medium-sized businesses.
As of March, SMEs in Hong Kong account for more than 98 percent of the city's total business units, and provide job opportunities for 45 percent of the workforce.
Hong Kong SMEs mostly focus on export business for foreign buyers — like those in the United States.
To cope with the current economic downturn, Butt suggests local SMEs readjust their market strategy. They should not go "all in" to a single market, but look into other opportunities, he said.
From the trade conflicts, "we need to learn this: Do not put all your eggs into one basket," Butt told China Daily in a one-on-one interview.
He said that the mainland market was one of the biggest in the world and therefore could not be ignored.
The Bay Area could be the first step for the city's SMEs to enter the mainland market. Butt believes that once enterprises tap into the Bay Area, the rest of the mainland market will open up.
He stressed that Hong Kong enterprises enjoy several key advantages. These include a reputation for quality products and services; an ability to quickly adapt to market trends; and experience with oversea buyers. These will help them efficiently expand their businesses into the Bay Area and beyond, Butt added.
Hong Kong firms would also have easier access to the Bay Area market of 70 million people, on account of their similar cultures, the same language and geographical proximity, he said.
The Bay Area, which consists of nine cities in Guangdong province and the special administrative regions of Hong Kong and Macao, encompasses an area of 56,000 square kilometers. It is one of the most open and dynamic regions in China.
The central government released the outline development plan for the region in February, followed by preferential policies launched by governments within the region that offer opportunities for Hong Kong enterprises.
There are specific funds for Hong Kong companies to purchase high-tech machineries and upgrade production lines. These are available as soon as companies register their businesses there, Butt said.
Several funding projects by the governments of Zhuhai, Zhongshan and Dongguan — three mainland cities within the Bay Area — will be introduced at a fund fair hosted by the productivity council on Monday and Tuesday.
This will be Hong Kong's first fund fair aiming to provide firsthand information about funding programs and services to local entrepreneurs. Nearly 50 funding programs will be introduced at the fair; a series of thematic seminars will also be held.
Butt said many SMEs still lack information about supporting services and programs. He hopes the one-site fund fair will help the city's beleaguered SMEs do well during such a difficult time.
Starting in October, the city's four SME centers under the council, Trade and Industry Department, Hong Kong Trade Development Council and Hong Kong Science and Technology Parks will collaborate. This is to further assist enterprises applying for government funding programs.