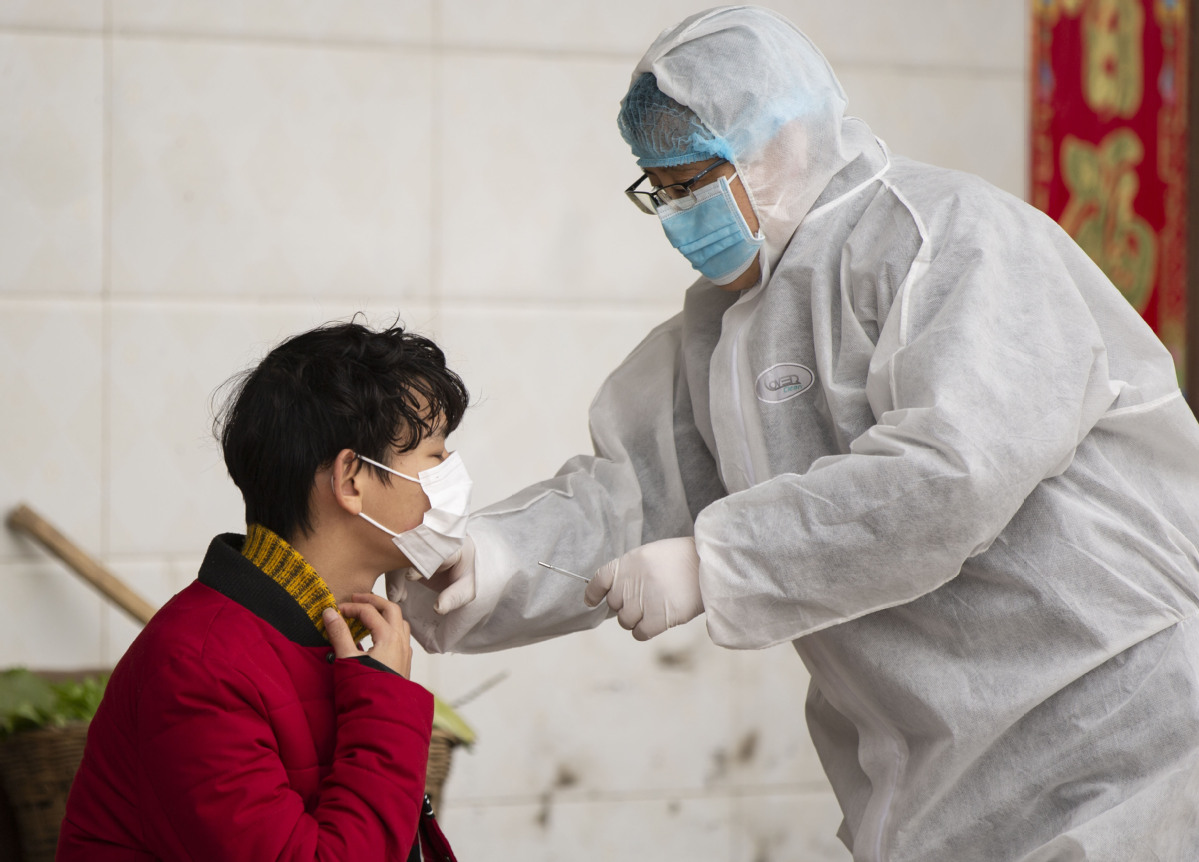 A series of videos that show rural officials in China using camera-mounted drones and loudspeakers to supervise residents and urge them to wear masks or quit gathering have been widely circulated on social media.
Deploying unmanned crafts to spread awareness of the novel coronavirus pneumonia epidemic and strengthen prevention measures is just one of many effective ways that the nation's countryside areas have adopted to control the spread of the virus.
Nie Chunlei, head of the National Health Commission's primary health department, said on Tuesday that a lack of understanding of the disease, crude healthcare services and the deeply-rooted habit of gathering and holding collective events have posed challenges to the disease prevention work in rural regions.
"It is crucial to both prevent new infections from entering rural villages and eliminate transmission between villagers," he said at a news conference held by the Joint Prevention and Control Mechanism of the State Council.
To achieve this, Nie has emphasized early detection, quarantine and treatment of confirmed or suspected cases and has urged thorough and timely screening of feverish people or those returning from other areas.
"Suspected patients and those displaying relevant symptoms should be immediately transferred to higher-level medical institutions, and close contacts should be isolated at home for standard medical observations," he said.
Mao Dezhi, an official with the Ministry of Agriculture and Rural Affairs, said education campaigns have been launched in rural areas to boost awareness of hygiene and precautionary measures.
"We have organized villages to broadcast prevention and control measures through loudspeakers and to share such messages via popular messaging apps or mobile platforms," he said.
Rural medical workers have also been playing an increasingly important role, according to Nie. There are about 1.44 million rural medical workers in China.
"About 560,000 rural doctors and grassroots workers have received online training designed to improve their capabilities in curbing the spread of the novel coronavirus," he said. "Higher-level medical workers are also providing guidance to their rural counterparts to improve work efficiency."
He added that while rural workers are mainly responsible for monitoring and screening measures, they are discouraged from treating suspected patients in local institutions.
As Hubei province, the epicenter of the outbreak, faces an acute shortage of medical equipment and staff, Nie said rural medical services are also under strain.
"We have required local governments to fully consider the rural area's demands for medical resources when distributing relevant products," he added.