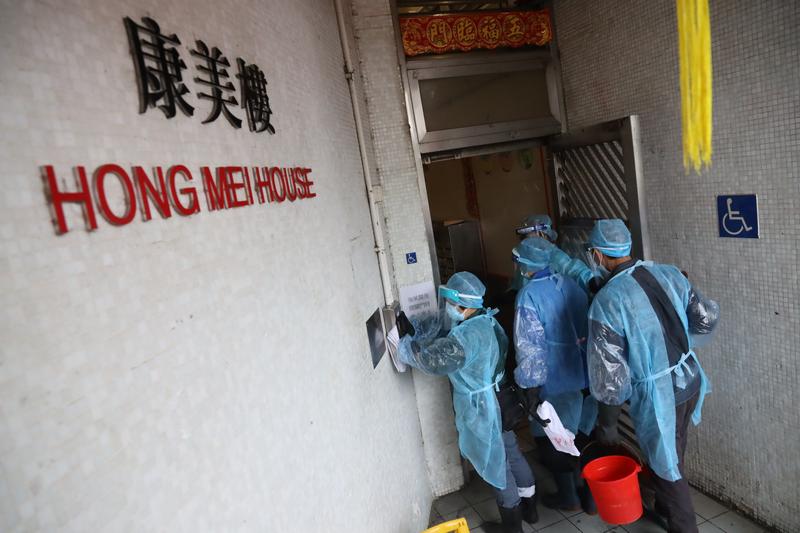 Hong Kong's leading microbiologist Yuen Kwok-yung on Tuesday said Hong Mei House in Tsing Yi, where two residents living on different floors contracted the novel coronavirus pneumonia (NCP), is "absolutely" not a copy of Amoy Gardens that saw a massive outbreak of SARS infection in 2003.
Yuen's remarks came after the government announced seven new NCP cases, bringing the total in the city to 49.
Health authorities found that the exhaust pipe of the 42nd patient's bathroom had been modified, causing air to leak into the apartment. The patient was living in a unit similar to the one occupied by the 12th NCP patient in Hong Kong. Their flats were 10 floors apart.
Yuen said it was reasonable to believe the leaking pipe was a cause of the infection.
In 2003, small droplets carrying the SARS virus passed through the dried-up U-bend drains that connected the toilets of the whole building and eventually infected more than 300 residents of Amoy Gardens.
Yuen called on all Hong Kong people not to overly worried that there would be a repeat of the Amoy Gardens outbreak.
All five residents of the Hong Mei House who developed syndromes of infection were tested negative to the NCP, according to the Department of Health. Nearly 200 residents of the block were evacuated and quarantined in the early hours of Tuesday.
One of the seven newly infected patients was a colleague of a patient who was tested positive earlier. The two attended a family gathering on Jan 26.
Another three confirmed cases were the 42nd patient's son, daughter-in-law, and father of the daughter-in-law. The father had not visited the Hong Mei House, but had met with his daughter.
The other three cases confirmed on Tuesday include a 59-year-old preacher in Siu Sai Wan, a 71-year-old man living in Po Lam Estate and a 66-year-old man living in Tuen Mun.
Yuen said that the most pressing task to curb the contagion is to cut off the local transmission chain by avoiding going to social gatherings and crowded places.
"Local outbreak (of the disease) possibly won't happen under current circumstances…Residents should be optimistic about the current situation," Yuen said.
He also said it is not the time for finger pointing and finding the scapegoats to blame for spreading the virus.