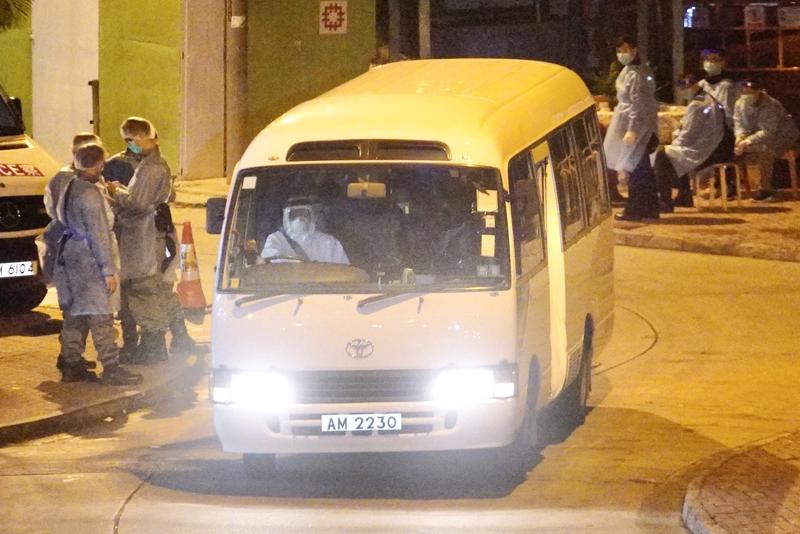 HONG KONG - Some one hundred residents of Hong Mei House in Tsing Yi were evacuated and quarantined in the early hours of Tuesday after two residents living on two different floors contracted infection from a novel coronavirus that first caused an outbreak in the central Chinese city of Wuhan late last year.
Secretary for Food and Health Sophia Chan confirmed on Tuesday morning that four Hong Mei House residents were showing symptoms. Health authorities updated the figure to five in a press conference in the afternoon and said all had tested negative for the virus. Chan said the virus was believed to have spread in the building through U-traps.
At Tuesday noon, the government sent another batch of residents living in Hong Mei House to designated quarantine centers by bus.
Speaking to reporters ahead of the weekly Executive Council meeting, Chief Executive Carrie Lam Cheng Yuet-ngor said the government would stay vigilant and conduct a thorough investigation.
Experts said it was possible that the virus had been transmitted through a U-shaped trap below a waste outlet of the residential building's flushing system. A similarly-designed waste outlet at Amoy Gardens in Kwun Tung was believed to be responsible for the extensive transmission of severe acute respiratory syndrome (SARS) in 2003 in the residential estate. Lam said, the microbiologist, Yuen Kwok-yung, believed that the Tsing Yi situation was different from that of Amoy Gardens.
Hong Kong recorded 42 confirmed infections so far. The latest case involves a 62-year-old woman who lives in a unit similar to the one occupied by the twelfth person in Hong Kong to have contracted the infection. Their flats were 10 floors apart.
According to Yuen, the toilet pipeline of the unit occupied by the elderly woman is not concealed, making it highly possible that the virus transmitted via the pipeline of a higher floor in which the other patient, currently in hospital, resides.
Hong Kong's Centre for Health Protection (CHP) inspected Hong Mei House, Cheung Hong Estate on Monday night and checked on residents living in similar units – numbered 07 - of the entire block across 30 floors.
All residents of 07 units were sent to quarantine at Tuesday noon while some residents of other units in the building voluntarily evacuated.
Symptomatic residents will be sent to hospital for isolation while asymptomatic residents will be issued quarantine orders and be transferred to a quarantine center.
Sanitation workers wash a pedestrian pathway near Hong Mei House at Cheung Hong Estate in Tsing Yi on Feb 11, 2020. [EDMOND TANG / CHINA DAILY]
The Department of Health will provide residents with guidelines on professional cleaning and disinfection of drainage pipes and has urged people to regularly pour about half a liter of water into each drain outlet (U-traps) to ensure environmental hygiene. It has also urged residents to put the toilet lid down before flushing to keep germs from spreading.
The Food and Environmental Hygiene Department and the Housing Department will conduct a thorough cleaning and disinfection for the building.
Secretary for Transport and Housing Frank Chan Fan said that in Amoy Garden, the sewage pipelines were located on the outer walls of the building and the virus could have been transmitted by the wind or damaged pipelines. But in Hong Mei House, the sewage pipelines are installed indoors. Chan said it was possible that the infected persons might have refitted the pipelines on their own.
The health secretary said there was no response from nine households when officials checked last night on 34 households occupying Hong Mei House. Authorities will keep trying confirm their whereabouts, she said.
At the press conference, Lam dismissed the possibility of shutting down more checkpoints in view of significant decrease in cross-boundary flow of people following earlier measures.
She spoke of an increase in cross-boundary cargo movement in recent days while stressing the government was fully capable of meeting the increasing local demand of daily supplies. Lam also said the government was not considering compulsory closure of cinemas and karaoke venues as she believed that operators had taken sufficient precautions.
The CHP will brief the CE later today and the government, in turn, will inform the public as soon as possible.
In a press release issued early Tuesday, CHP said that as of 8 pm Monday, it was investigating six additional cases of novel coronavirus infection, taking to 42 the number of confirmed cases so far in Hong Kong.