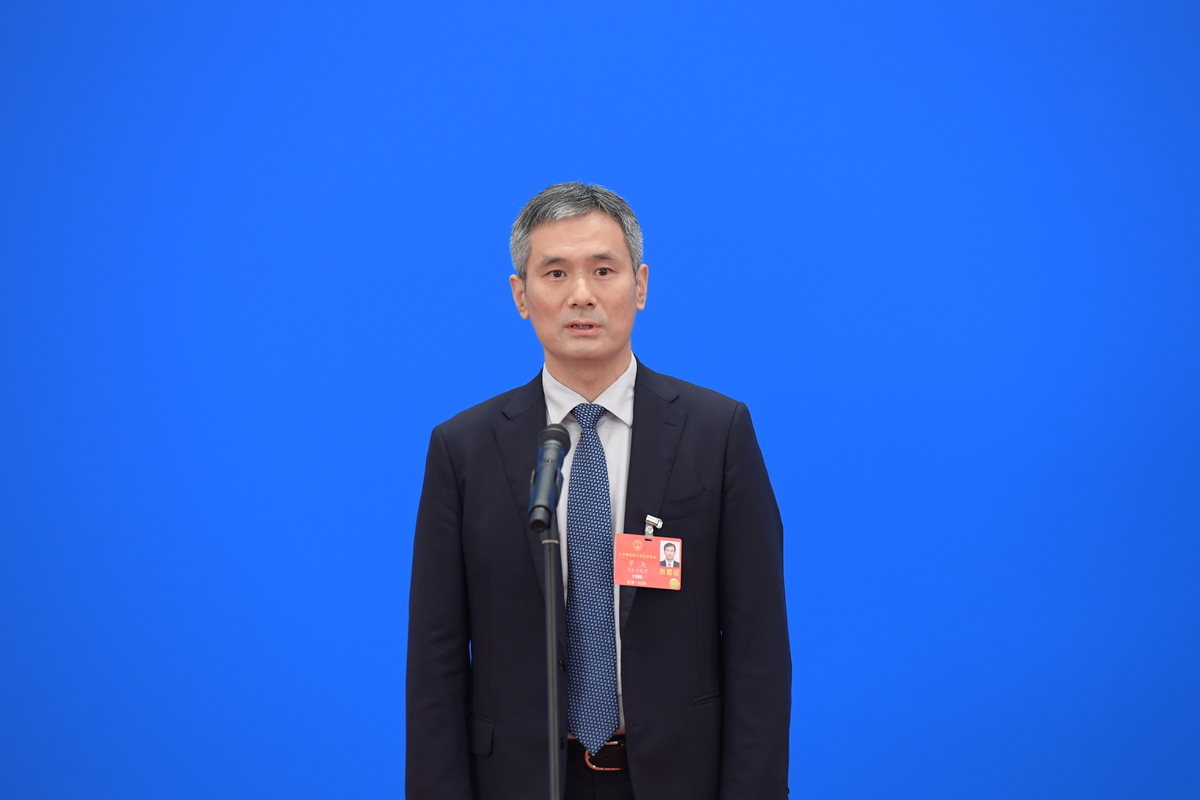 Young medics have fully proved themselves in the tough fight against the novel coronavirus outbreak by giving outstanding performances in dire situations and saving lives, a National People's Congress deputy said on Friday.
"I used to believe that the post-90s generation medics were still too young and even childish sometimes, but their performance during the key event such as the outbreak has changed my mind," Luo Jie, a NPC deputy from Hubei province and president of Taihe Hospital of Shiyan city, said in an interview at the Great Hall of the People before the opening session of annual session of the NPC, China's top legislature.
A team of seven post-90s generation male nurses from the hospital's respiratory medicine department took on the heavy responsibilities of taking care of the COVID-19 patients including those in severe conditions. Luo called them the Calabash Brothers, the well-known seven Chinese cartoon characters with different superpowers.
"They are very skillful and hard working. The hospital said that the medics should take a break after working in isolation wards but they often took on longer shifts to help the patients. What's more, they took on the extra duty of medical waste disposal," Luo said.
After having a break of five days after working intensively for 14 days, they asked to go back to the front line together again. "The post-90s generation has proved that they can be counted on with their actions," he said.
The medics at the hospital never gave up saving every COVID-19 patient, Luo said. In one case, an 87-year-old patient believed that she would not survive because she had difficulty breathing, high blood pressure and diabetes.
"We assembled a team of nine medics including a dietitian and an psychologist to take care of her. After spending 47 days at the hospital, she was discharged. The moment when she thanked us for saving her life was truly unforgettable," he said. 。
Hubei and its capital Wuhan were the hardest hit by the outbreak on Chinese mainland. More than 500,000 local medics and 43,000 medics who came to aid the province had worked together to fight the tough battle. Luo said Hubei people will never forget the help others have given them during the toughest time.
"We will be always grateful for every mask and protective suit sent in. We will always remember the medics who risked their life to fight alongside us," he said.
In Wuhan and Hubei, the people have carried on with fortitude and resilience during the fight against the epidemic, Premier Li Keqiang, said when delivering the Government Work Report during the opening session on Friday.