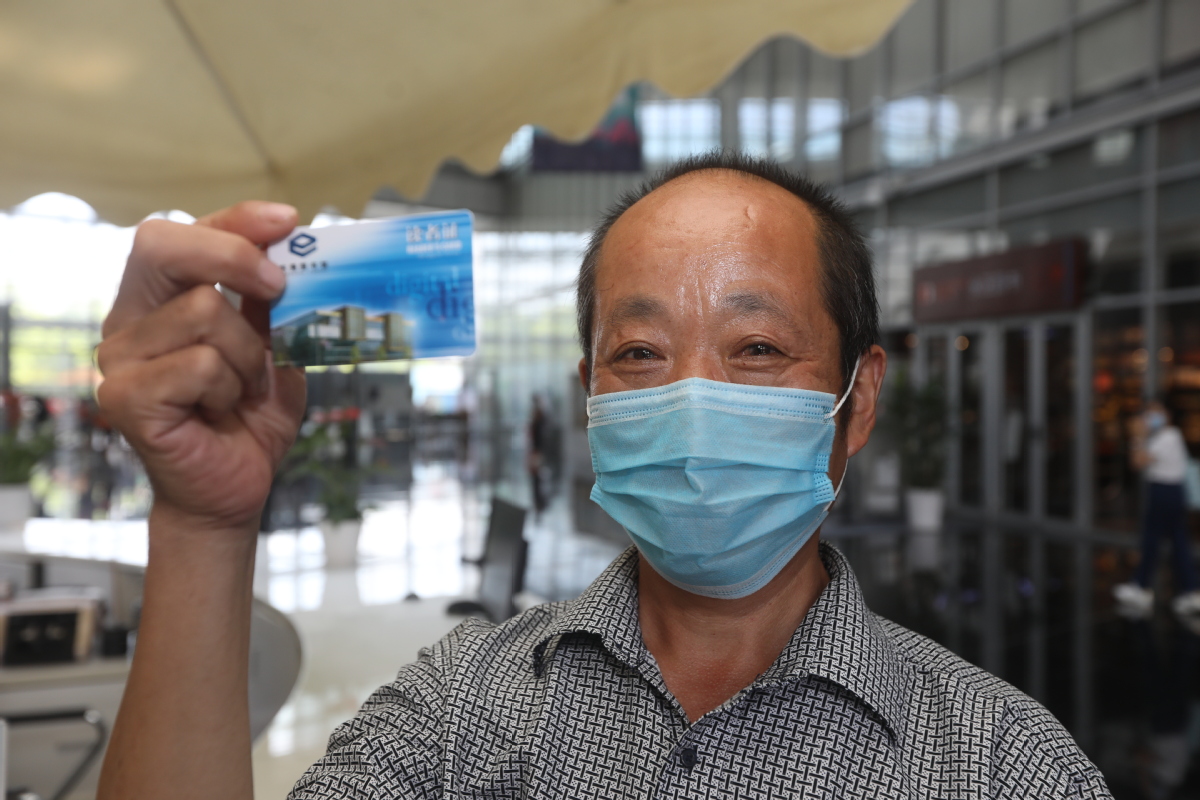 When Wu Guichun, a migrant worker from Hubei province, moved to a new dormitory on Saturday in Dongguan, Guangdong province, he brought some necessities, as well as a Chinese dictionary and a book about food and dieting.
"I like reading. If I were leaving Dongguan, I would throw away the necessities such as a mini electric fan and a plastic bucket but keep the books," Wu said.
With the help of the local human resource authority, Wu, 54, got a new job-working on gardening and greening in a local residential community, after a farewell letter he wrote to a public library became a hot topic online.
Two days ago earlier, Wu had decided to leave Dongguan, where he had been working in a shoemaking factory for more than a decade.
"I have been working in the city for 17 years and have come to read in the library for years," Wu wrote in the letter.
Wu, from Xiaogan, Hubei province, the hardest-hit during the COVID-19 epidemic in China, said in the letter that he had to leave Dongguan as many local factories had been shut down due to the outbreak.
"I would choose to return home as the epidemic this year has forced shutdowns of many industries, and many migrant workers have nothing to do," he said.
Wu composed the letter on Thursday when he returned his reader's card to the library, the place he visited the most during his stay in the city, apart from his workplace in a shoemaking factory and rental house.
"I will never forget the library, and I wish it to further benefit Dongguan and migrant workers in this city with knowledge," wrote Wu, expressing his deep unwillingness to leave the city.
The letter touched millions of Chinese netizens after it was posted online by a library employee.
"I was so inspired by his perseverance to read and his desire for knowledge, despite his job as a migrant worker and the difficult time during the pandemic," said Wang Yanjun, a staff member with the Dongguan library.
"He wrote very seriously and slowly. I could feel his deep love of the library," Wang recalled.
The local human resource authority noticed Wu's letter online and got in touch with him on the same day he gave the library staff the letter.
"We need to keep such a migrant worker with such a deep love of the city," said Zhao Liping, director of the job service center of the Dongguan human resource and social security bureau.
After landing his new gardening job, one of several recommended by the bureau, Wu decided to stay in Dongguan.
"I will still go to the library-I have four days off work each month," Wu said.
Wu said he will also write online after his son helped him create a WeChat account.
"Apart from reading, I will learn to write better, to record my experiences and thoughts," Wu said.