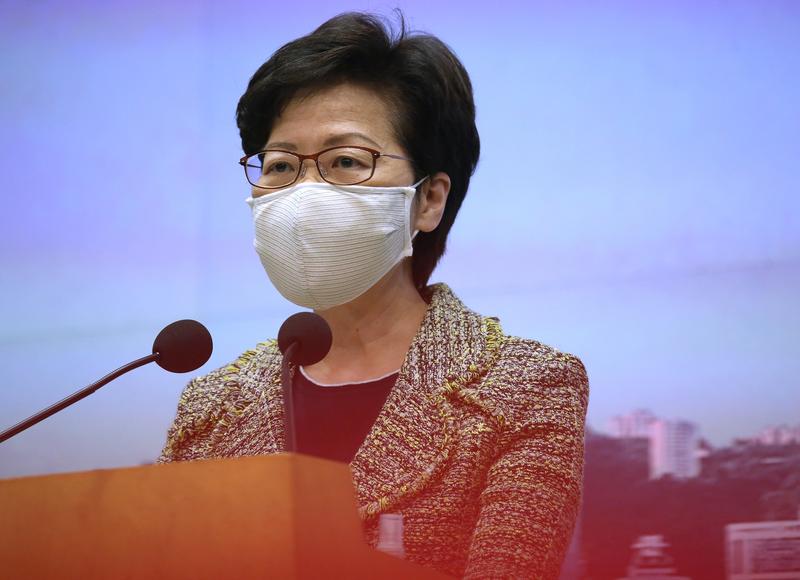 HONG KONG – Hong Kong Chief Executive Carrie Lam Cheng Yuet-ngor said Tuesday that it's appropriate to let mainland law enforcement authorities to handle, in accordance with the local laws, cases relating to 12 Hong Kong fugitives who had been arrested by the mainland law enforcers for allegedly crossing the border illegally.
The Hong Kong Special Administrative Region government fully respects the legal systems of other jurisdictions and maintains that each jurisdiction shall handle any illegal acts in accordance with its own laws, Lam told the media before the weekly Executive Council meeting.
"Such a practice is commonly recognized around the world," she added.
Lam was speaking about 12 Hong Kong fugitives who were detained by the coast guard of Guangdong province on Aug 23 on suspicion of entering the mainland illegally. Local media said the detainees were arrested while they were trying to flee Hong Kong to Taiwan.
According to the SAR government, the fugitives are linked to seven criminal cases, with 10 of them charged with serious offenses including making or possessing explosives, arson, conspiracy to wound with intent, rioting, assaulting police, and possessing offensive weapons and instruments fit for unlawful purposes. All of them were forbidden from leaving Hong Kong.
All Hong Kong residents are entitled to legal rights, but they should shoulder the legal liabilities if they breach a law in another jurisdiction, Lam stressed.
The government will provide necessary and feasible assistance to every Hong Kong resident who is suspected of breaching any law outside the city, but it also respects the legal system in other jurisdictions, she said.
These are key principles the HKSAR government adheres to in dealing with cross-boundary crimes, said the CE.
She also slammed some politicians and media for glorifying the fugitives as "democracy activists". She urged the public to recognize the nature of the event as all detainees seem to have attempted to evade their legal liabilities under Hong Kong laws.