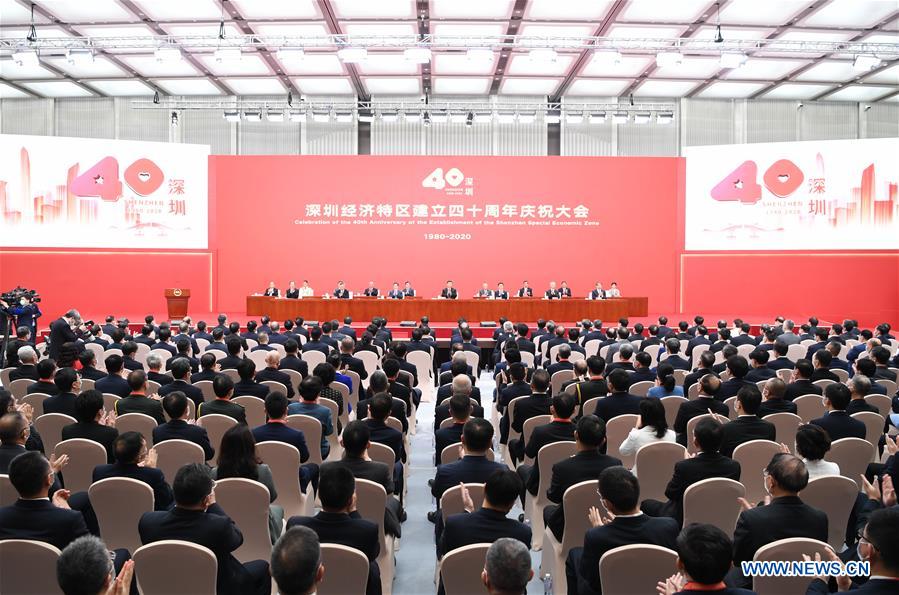 President calls for efforts to synergize economic rules in SARs, Guangdong
Leading figures from various sectors in the Hong Kong Special Administrative Region said on Wednesday that the city should double down on its efforts to build an international innovation and technology hub with the mainland's Shenzhen in its integration into the Greater Bay Area.
Their remarks came after President Xi Jinping called for efforts to synergize economic rules and mechanisms in the Hong Kong and Macao SARs and Guangdong province to further build up the 11-city Bay Area cluster, as he delivered a speech on Wednesday at a grand celebration marking the 40th anniversary of the establishment of the Shenzhen Special Economic Zone.
During the speech, Xi said compatriots in Hong Kong and Macao are encouraged to play important roles in investment, entrepreneurship and opening-up.
Hong Kong's Chief Secretary for Administration Matthew Cheung Kin-chung said on Wednesday the city should press ahead with the development of the Guangdong-Hong Kong-Macao Greater Bay Area and seize the opportunities brought about by the nation's Belt and Road Initiative.
Cheung envisioned that Hong Kong, given its advantages under the "one country, two systems "policy, could serve as a "two-way gate" to the Chinese mainland and the international market in the new era.
Hong Kong business magnate Allan Zeman expressed a similar view. With its worldwide reputation in financial services, Hong Kong constantly assists mainland businesses in "going global" and attracting investment, he said.
On Sunday, China unveiled a plan, comprising an array of innovative policies, on implementing pilot reforms in Shenzhen to build the city into a demonstration area of socialism with Chinese characteristics in the next five years.
Zeman welcomed the move, saying that Hong Kong could share the fruits of Shenzhen's technological development, as the two cities are both cornerstones of the development of the Bay Area. "The two cities are like brother and sister," he said.
Richard Cullen, a law professor at the University of Hong Kong, said President Xi's speech has laid a "very good foundation" for closer Greater Bay Area cooperation. "Good opportunities are coming, and it's good to get in early to take advantage of them."
He said that Hong Kong people should remember that Shenzhen is a competitor in certain ways, but it's much more a partner. "It's much better to be next door to this powerhouse in innovation and technology."
Swiss financial consultant Angelo Giuliano hoped to see more incentives to increase the mobility of talents between the two cities to enhance cooperation between Shenzhen and Hong Kong.
The central government and local governments need to launch a lot of communication and exchange programs to better explain the mega city cluster project and its necessity, especially to Hong Kong's young people, he suggested.
Attending the celebration in Shenzhen, Tang Ching-ho, a Hong Kong member of the National Committee of the Chinese People's Political Consultative Conference, said that with the recovery of the mainland economy following the coronavirus outbreaks, Hong Kong's youngsters should try to find opportunities on the mainland.
A thriving economy with a broader industrial basis will provide young people in Hong Kong with an opportunity to advance, said Lau Siu-kai, vice-president of the Chinese Association of Hong Kong and Macao Studies, adding that Hong Kong should join forces with Shenzhen in developing innovative technology and the creative sector.