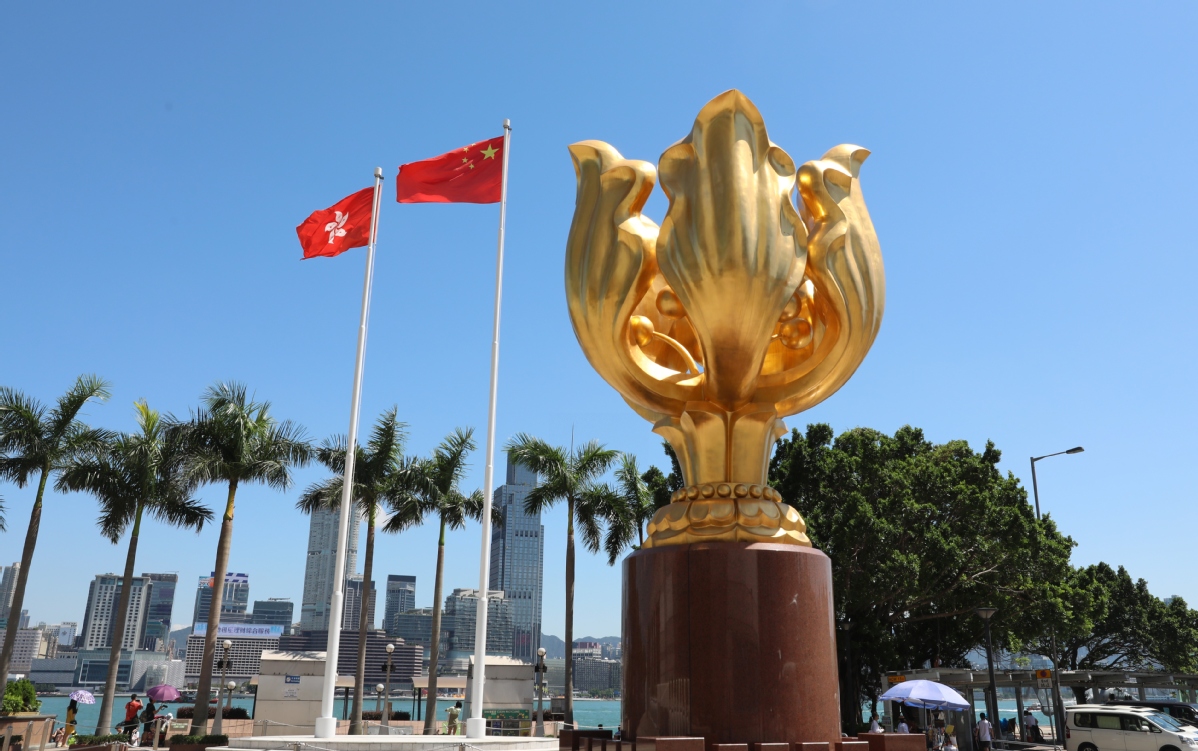 About two-thirds of lawmakers in Hong Kong's legislature on Friday pledged to fulfill their duties of monitoring and improving the government's governance and to work with the people of Hong Kong to tide over the difficult times the city is facing.
The legislature shall maintain a vigorous and cooperative relationship with the government, Martin Liao Cheung-kong, convener of the pro-establishment lawmakers in the Legislative Council and a barrister, said at a news conference.
Hence the remaining lawmakers will be proactive in the deliberation of every bill, budget and policy proposal tabled by the government and will reflect in a timely manner different voices of society, Liao said.
The Standing Committee of the National People's Congress announced on Wednesday that Hong Kong Legislative Council members shall be disqualified for office once they are determined by law to have failed to meet the legal requirements of upholding the Hong Kong Special Administrative Region Basic Law and honoring the Pledge of Allegiance to the HKSAR.
So far, 43 lawmakers have decided to remain in office for the extended term of the sixth-term legislature. Forty-one are from the pro-establishment camp. The other two are Cheng Chung-tai and Pierre Chan, who did not join the 41 during the conference.
The Hong Kong government later disqualified four lawmakers-Alvin Yeung Ngok-kiu, Dennis Kwok Winghang, Kwok Ka-ki and Kenneth Leung Kai-cheong. They were previously banned from running for the seventh-term legislature as returning officers found them not to be upholding the Basic Law.
The four ousted legislators deserved to be disqualified, given their indiscriminate opposition to every bill and budget presented to the legislature, and for seeking sanctions against China and the SAR from foreign countries, Liao said.
However, observers noted another 15 lawmakers who resigned were merely undergoing political posturing to gain international attention.
Another lawmaker-Starry Lee Wai-king-said it was irresponsible for the 15 legislators to create such a political farce only to confront the central government. She said that the legislature would work with the government to make the best use of the extended legislature year to tackle pressing problems in Hong Kong, such as rising unemployment and other deep-rooted issues.
Hong Kong Chief Executive Carrie Lam Cheng Yuet-ngor criticized the four lawmakers on her social media account for lobbying the United States to enforce sanctions against the city and not considering Hong Kong's interests and the survival of local industries amid pandemic and recession.
Maritime industries in Hong Kong, which have helped the city become an international shipping hub, were hammered by Washington's unilateral sanctions amid the pandemic crisis, Lam said.
She added that some shipping lines moved their businesses away from Hong Kong after the US sanctions were imposed, weakening the government's earlier efforts in backing industries-such as tax concessions, a maritime and aviation training fund, and setting up overseas offices for Hong Kong's shipping registry.