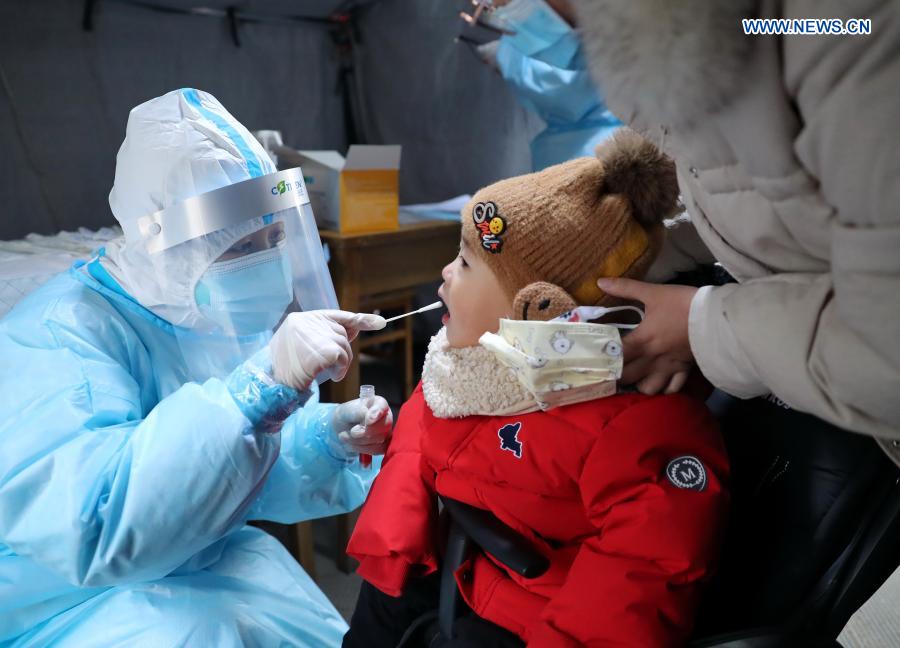 Governments taking action to contain numerous small COVID-19 outbreaks
The Chinese mainland has recorded a daily increase of more than 100 locally transmitted confirmed COVID-19 cases for three consecutive days, most of which were found in the cluster infections that broke out in the provinces of Hebei and Heilongjiang.
National Health Commission data showed 135 new locally transmitted confirmed cases were reported on Thursday, up from 124 on Wednesday, and 107 on Tuesday.
Of the cases, 90 were reported in Hebei, 43 in Heilongjiang, and one each in Guangxi and Shaanxi, the commission said in its daily report on Friday.
Heilongjiang, the northernmost province, has witnessed a surge in cases since Jan 10, with a clear trend in cluster infections in rural regions of Wangkui county, Suihua city.
It has triggered the county's Huiqi town to become the country's second high-risk region, following Gaocheng district of Shijiazhuang, Hebei province.
Epidemiological investigations showed that all the patients were in some way connected to Huiqi town and most of them had joined in activities such as weddings and banquets, according to the provincial health commission.
"There were more gatherings in the slack season of winter and villagers had lower awareness of prevention," Li Jie, a farmer in Wangkui county, told Xinhua News Agency."Some villagers had participated in four weddings recently."
To contain the spread, the county has completed a mass testing covering more than 240,000 of its residents since Thursday. The testing will expand to cover more counties and districts of the city and is expected to be completed before Monday, said Dong Wenqin, deputy mayor of Suihua on Thursday evening.
The cluster infection in Wangkui county has expanded to more cities and even other provinces. For example, neighboring Jilin province reported 14 local asymptomatic cases on Friday, among whom a 45-year-old male had returned to Songyuan city of Jilin from Wangkui county on Jan 9.
And 12 of the other 13 asymptomatic carriers had participated in a training course held by an asymptomatic case reported on Wednesday who came from Heilongjiang province, according to data from Jilin's provincial health commission.
Along with the frequent mass tests, widely adopted in regions with COVID-19 cases, both Heilongjiang and Hebei provinces have adopted centralized quarantine as one of the measures to avoid further cluster infections.
Residents of two worst-hit sections of Huiqi in Wangkui county of Heilongjiang have been transferred to centralized quarantine facilities, said Dong, the city's vice-mayor.
Shijiazhuang in Hebei province has in recent days stepped up its fight against the COVID-19 outbreak.
The city had put over 27,000 people at higher risk-close contacts of positive results and secondary close contacts-in 434 centralized quarantine centers citywide, Meng Xianghong, the city's vice-mayor, said on Friday.
A new facility, known as Huangzhuang Apartments, is being built in a junction area of Zhengding county and Gaocheng district, which could provide 3,000 rooms with electricity and showers. It will be put into use in days.
By Friday afternoon, a bunch of 18-square-meter prefabricated rooms have sprung up after construction started on Wednesday.
While isolating the people at higher risk, a fourth round of nucleic acid testing started on Friday for all residents in Gaocheng district to further screen out any possible virus carriers or patients.
As of Thursday midnight, Hebei has 553 locally transmitted confirmed cases and 195 asymptomatic cases under medical observation, according to the Health Commission of Hebei on Friday.
Among those, there are more than 70 children, aging from six months to 14, and all of them have received targeted service from medical professionals.