Video PlayerClose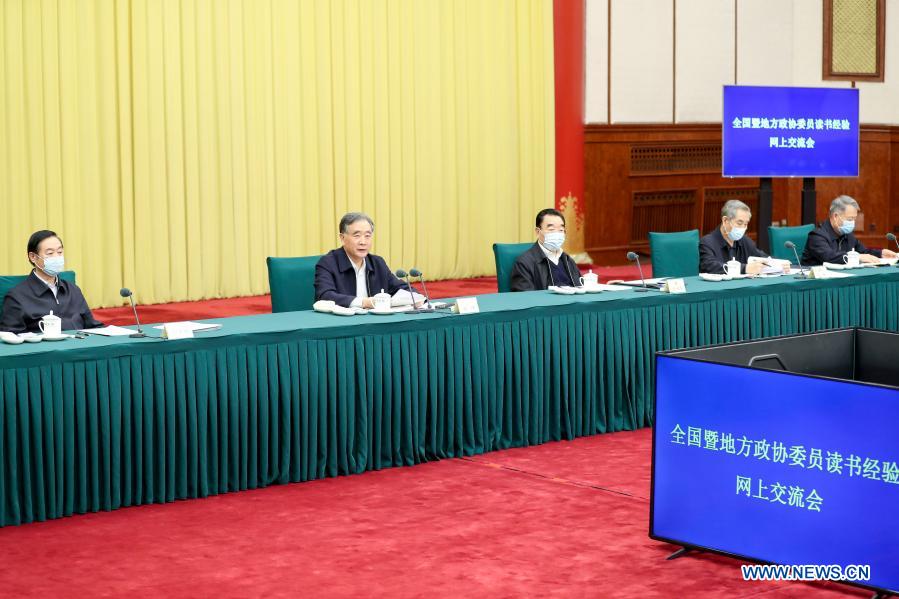 Wang Yang, a member of the Standing Committee of the Political Bureau of the Communist Party of China Central Committee and chairman of the Chinese People's Political Consultative Conference (CPPCC) National Committee, delivers a speech while attending an online seminar to share reading experience in Beijing, capital of China, Jan. 14, 2021. (Xinhua/Ding Lin)
BEIJING, Jan. 15 (Xinhua) -- More political advisors nationwide should engage in reading to lay a solid foundation for improving political consultation, China's top political advisor Wang Yang said Thursday.
Wang, a member of the Standing Committee of the Political Bureau of the Communist Party of China Central Committee and chairman of the Chinese People's Political Consultative Conference (CPPCC) National Committee, made the remarks while attending an online seminar to share reading experience in Beijing.
The reading activity is an innovative measure for CPPCC members to improve their capability to fulfill duties, Wang noted, calling for continuous efforts to promote reading among the political advisors and encouraging them to share reading experiences.
The CPPCC National Committee initiated the reading activity last April and more than 1,800 national political advisors have participated in the activity. Enditem