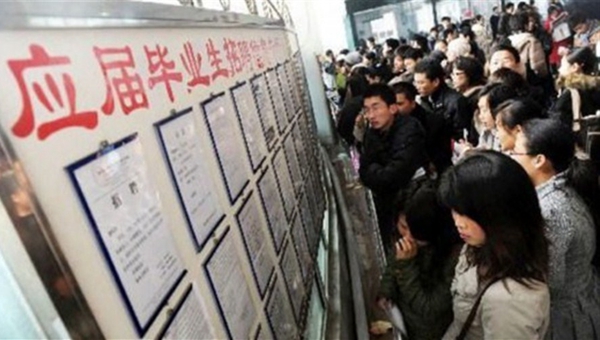 Universities said their 2016 graduates had higher starting salaries than those who had previously graduated.

Manufacturing, health, social work, IT and finance were the most popular choices for students.
Shanghai Jiao Tong University said 98.96 percent of its latest graduate crop were either employed or were pursuing higher education, slightly higher than 2015's 98.58 percent.
Graduates reported an average starting salary of 102,900 yuan (US$14,820) per year, while masters and doctoral graduates started on 122,500 and 121,000 yuan a year respectively.
The three industries that employed most Jiao Tong graduates were manufacturing, health and social work, and IT and software.
At East China University of Science and Technology, where more than 63 percent of graduates were engineering majors, manufacturing was the most popular career choice — accounting for 43.82 percent of 2016 graduates, followed by IT and finance.
Average starting monthly salaries for East China graduates rose to 4,965 yuan for undergraduates, 7,131 yuan for masters students and 9,738 yuan for doctoral students.
At Shanghai University of Finance and Economics, graduates' average starting salary increased from 6,940 to 7,733 yuan a month, with banking, securities and funds the three most popular choices.
At Donghua University, which is renowned for its fashion and textile education and research, one third of its graduates last year also entered the manufacturing industry, followed by IT and finance.
At Shanghai International Studies University, the three most popular industries were leasing and commercial service, IT and manufacturing.
Experts said it was not surprising to see manufacturing as one of the most popular industries as it now had a higher profile in Shanghai.
"Manufacturing is no longer the low-ended industry as some people think, but has been developing fast with high technologies, such as automation and information technology, and the developing trend is attractive to students," said Zhu Shibo, chief executive of myjob500.com, an online recruitment agency.