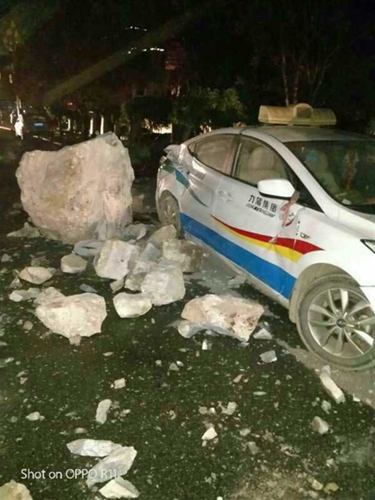 Falling rocks damage a taxi in Jiuzhaigou County yesterday after a 7.0-magnitude earthquake hit the scenic area. — Xinhua

AN earthquake measuring 7.0-magnitude struck China's mountainous southwest province of Sichuan last night, killing at least five people and injuring more than 60 others in a tourist resort.
The quake struck at 9:19pm at a depth of 20 kilometers, according to the China Earthquake Networks Center.
Sichuan television said the fatalities and injuries were in Zhangzha township, but noted that the area, which is frequently struck by earthquakes, has few permanent residents.
Sangey, a worker at the popular Jiuzhaigou tourist site, told Xinhua news agency by phone that some houses in the scenic spot had cracked or collapsed in the wake of the powerful quake and authorities are organizing young people to help evacuate residents.
Li Changyong, head of the county's health and family planning bureau, said the quake was strongly felt in the county seat, 35 kilometers from its epicenter, and many residents had rushed outside when buildings began to shake.
Li told Xinhua that he saw no buildings in the county seat that had collapsed.
Pictures on media-run social media sites showed some damage in Jiuzhaigou, with tiles having fallen from buildings and people gathering outdoors.
Television cited a resident in a village nearby as saying no buildings had collapsed where he was, but that there had been strong shaking and people had fled outside.
A police official told television there had been some panic among tourists when the quake hit.
Yu Qian, a local taxation bureau official, said she felt a strong tremor in her home on the fifth floor of her building and she and her two children had rushed outside.
Yu said the quake cut off power in her neighborhood and disrupted telephone services linking the scenic area where some of her colleagues worked and lived.
The quake was also strongly felt in the provincial capital of Chengdu, about 300km south of the epicenter.
Shaking was also felt in Xi'an, home of the Terracotta Warriors, according to users of Chinese social media.
Jiuzhaigou, or Jiuzhai Valley, is known for its spectacular waterfalls and karst formations. More than 38,000 people visited the tourist attraction yesterday.
The China Earthquake Administration has activated level-1 emergency response procedures, the highest level.
Work teams have been sent to the area to carry out emergency operations, it said.
The Red Cross Society of China also launched its emergency response procedures, sending 1,000 first aid kits, 2,000 quilts and 200 tents to the area.
The Chinese Red Cross Foundation sent work teams to verify the casualties and damage, and has allocated 100,000 yuan (US$14,915) for emergency aid.