As it's quite hard to get a railway ticket for the journey home for the reunion with family during the Spring Festival, more and more people are choosing to have a reverse Spring Rush - transporting their parents from their hometown to the younger generations abode for the holiday.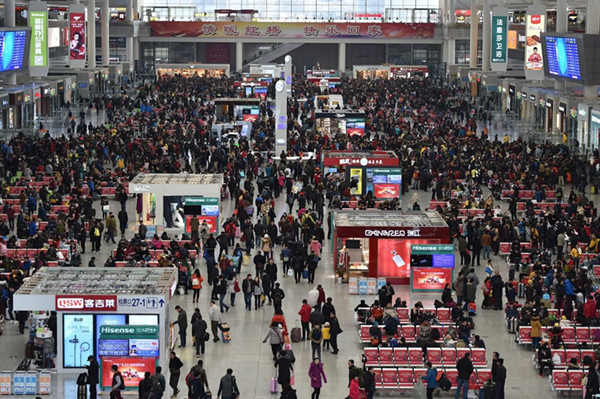 Amid the trend, the Shanghai railway transportation authority has released lots of discount tickets for 31 schedules of "reverse trains", which leave for Shanghai before the festival and depart from the metropolis after the holiday. The largest discount will be 65 percent.
In recent years, reverse Spring Festival has been on the rise, especially among the young who find their way to big cities. For some of the post-80s and post-90s generation, reverse Spring Festival is preferred since it not only solves the problem of tickets, but also allows parents to feast their eyes on modern culture and surroundings while paying a visit to the urban homes.
Besides the railway transportation, air traffic has also experienced such a trend. Statistics from Ctrip, China's largest online travel agency, show that Shanghai, Beijing, Guangzhou, Shenzhen, Hangzhou, Nanjing, Tianjin, Qingdao, Ningbo and Xiamen are the top ten destinations of "Reverse Spring Festival". Flight schedules one week before New Year's Eve to these cities have seen a booking increase of more than 40 percent year-on-year and the fare is even more economical than that of the high-speed train.
According to the analysis of Ctrip's booking department, the popularity of the "reverse Spring Festival" is closely related to the difficulty of snapping up a train ticket and the high expense of an air ticket for the journey to far-flung hometowns. It is expected that starting from January 28, eight days before the New Year's Eve which falls on February 4th this year, the elderly from Sichuan, Chongqing, Henan, Anhui and Hunan will embark on the reverse tour and the reverse transportation will usher in a previously unthought-of reverse peak passenger flow.