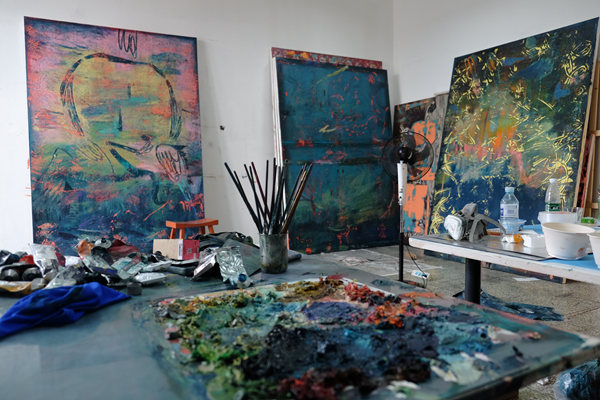 French artist Julien des Monstiers reflects his China experience through his paintings.[Photo provided to China Daily]
Wearing cloth shoes that are typical to China, French artist Julien des Monstiers has explored Beijing during his recent three-month stay by immersing himself in the local life rather than going around the city just as a tourist. Now, he is reflecting his experience on canvas and sharing it with people at his solo exhibition entitled Someone Else's Dream.
The show displays his works created in Beijing, including both abstract paintings and figurative ones, the art forms that he uses in Paris, where he lives.
Among his works on display are a painting of sculpture-like blue waves and a series of abstract paintings that have hidden animals, such as an elephant and a butterfly, as well as mythical creatures like dragons, all symbolizing dreams.
The 34-year-old artist says the process of painting is like dreaming - without reasonable plots. When dreamers wake up, their dreams may feel unreal but they do remember some parts.
"My exploration of Beijing is also like a dream with many fragments, I can clearly tell," he says.
He arrived in Beijing in June and lived in a traditional courtyard in an alley not far away from the Forbidden City. It was his first visit to China, and he knew very little about the country then.