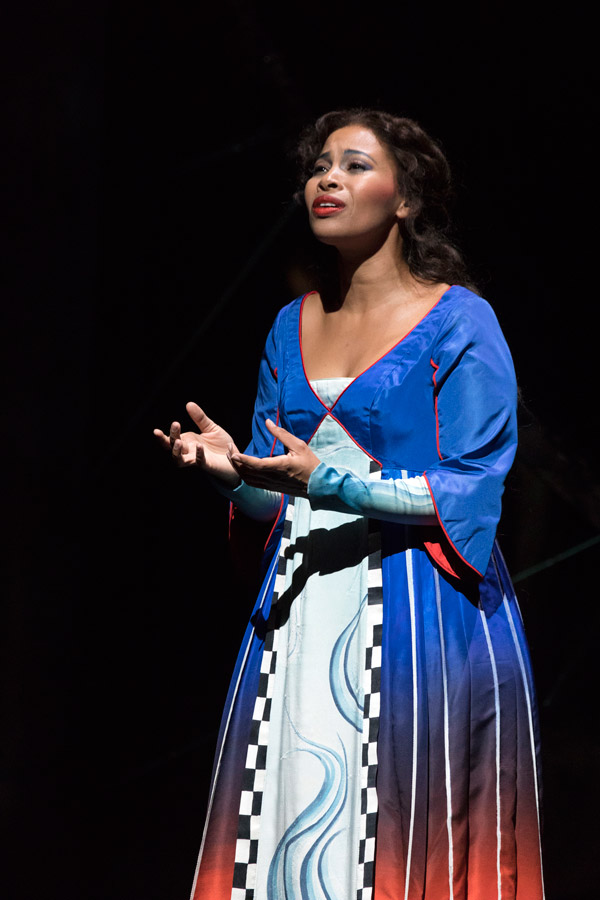 Golda Schultz performs as Pamina in Mozart's The Magic Flute at the Metropolitan Opera in New York. [Photo provided to China Daily] 
Some young singers make their Metropolitan Opera debuts in low-profile fashion, perhaps joining the company in a minor role or slipping into the second cast of a routine revival. Not Golda Schultz.
The South African soprano became an instant star on the third night of the new season, singing the lead role in Mozart's Die Zauberfloete (The Magic Flute) in Julie Taymor's fantastical production.
Her conductor was no less than James Levine, the company's music director emeritus. And her debut run got even higher visibility on Saturday when the final performance was broadcast live in HD to movie theaters worldwide.
Schultz portrays Pamina, daughter of the malevolent Queen of the Night, who finds happiness with her true love, Prince Tamino, but only after both undergo a series of ordeals.
Pamina is sometimes viewed as a rather passive character whose fate is played out by forces beyond her control.
Schultz disagrees.
"I think a lot of people seem to underrate her," she says in an interview at the Met. "I find she is surprisingly strong. She is the one who saves herself. She tells Tamino: 'Listen here, my father made the flute, the flute's magic, watch it do what it can. We're going to get through these trials together. Not you saving me, but we'll help each other.' So it's quite a modern understanding of relationships."
The role provides Schultz with an ideal opportunity to show off her lyric soprano voice, notable for her ability to loft high notes on a cushion of sound. In The New York Times, critic Zachary Woolfe writes on the moment when she is reunited with Tamino before their final trials: "She floated a line as plainly beautiful as anything I heard" during the opening week of the season.
The line in question starts with just two notes as she sings the first two syllables of Tamino's name: first the C above middle C, then up to A natural. That's an interval known as an ascending major sixth, which Schultz says is "one of those very special intervals that Mozart uses a lot".
"It's ethereal," she says. "You go from Earth to somewhere else, and you don't know where that somewhere is. If you just do the step the way he wants it, it has its own beauty."
And what's the secret of the particular sound she creates?
"I try never to approach a note from the bottom up but from the top down," she says. "So instead of going from C and moving my voice up, I take a little bit of a jump and then come down to land on the A. Then you're on it, and you just open it up and let it be. Complete trust is what Pamina is all about, and you just have to trust that the note will be there."
Schultz's parents are both mixed race.
Her father's family descended from German traders who settled in the eastern part of South Africa, hence her last name.
Her first name is in honor of Golda Meir, the first female prime minister of Israel.
"My mother's a bit of a feminist," Schultz says. "She found (Meir) to be a fascinating, strong woman who acted in good faith for her people."
Associated Press