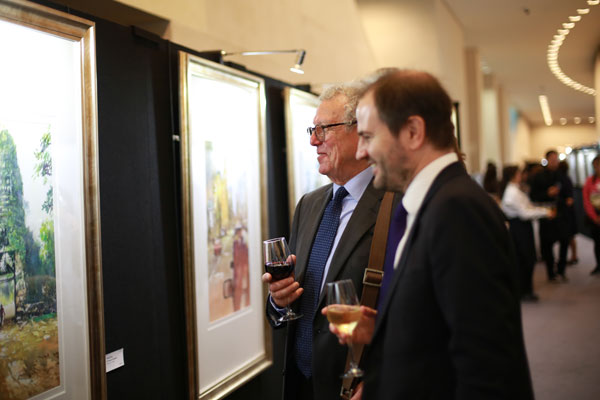 The president of Royal Society of British Artists, Nick Tidnam (left), views Chinese watercolor artist Feng Sixiao's works at British Museum in London on Tuesday. [Photo provided to China Daily]
Chinese artist Feng Sixiao has brought China to the British Museum, thanks to a display of his watercolor paintings, which opened on Tuesday.
More than 50 works were on display until Wednesday.
Feng said the paintings are his attempt to combine the traditional Chinese painting style with Western watercolors, something he has worked on for at least 20 years.
"Watercolor stems from the West and focuses on the color and the light, whereas Chinese painting is more about spirits and emotions," said Feng. "I have added some natural spirits and brushing skills from Chinese ink painting to watercolor painting. That is what makes my work different."
Born in Qingdao, in East China's Shandong province, the 69-year-old is one of China's best-known artists. His paintings are frequently seen in art textbooks.
Feng is also acclaimed worldwide and has held solo exhibitions in the US city of San Francisco, the US state of Hawaii, and Canada. His paintings were displayed at Olympic stadiums during the 2008 Beijing Olympic Games.