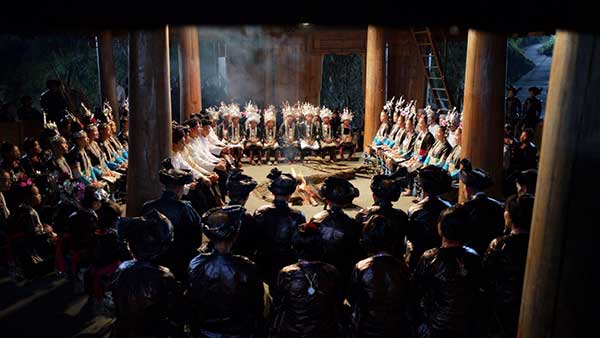 The Grand Song, a new movie on the Dong ethnic group, has a lot of such scenes to demonstrate its members' musical art, which was inscribed by UNESCO as an intangible cultural heritage in 2009.[Photo Provided to China Daily] 
New film exploring the culture of an ethnic group in Southwest China has gone on nationwide release. Xu Fan reports.
As night falls, a young man takes a wooden ladder and leans it against a closed window on the second floor of a house. Playing a guitar-like instrument, he sings romantic lyrics as his beloved looks on from the other side of the window.
This kind of wooing is not common in big cities, but for Dong people, an ethnic group that mainly lives in Southwest China's Guizhou province, it has been part of their life for centuries. And it now features in the new movie The Grand Song.
The 138-minute film, which opened across China on Nov 17, showcases Dong culture and lifestyle through a romantic story spanning several decades.
The movie is also the first of its kind to explore Dong culture since China launched a project to shoot at least one film for each of the country's 56 ethnic groups in 2014, says Niu Song, secretary-general of the China Ethnic Movies' Promotion Association.
With The Grand Song, the number of ethnic groups that have not had a movie made to record their culture has dropped to 17, says Niu.
As the main consultant on the movie, Niu believes it will help outsiders to learn more about the ethnic group, members of which are believed to be descendants of the Baiyue tribes who lived in areas south of the Yangtze River around 2,500 years ago.