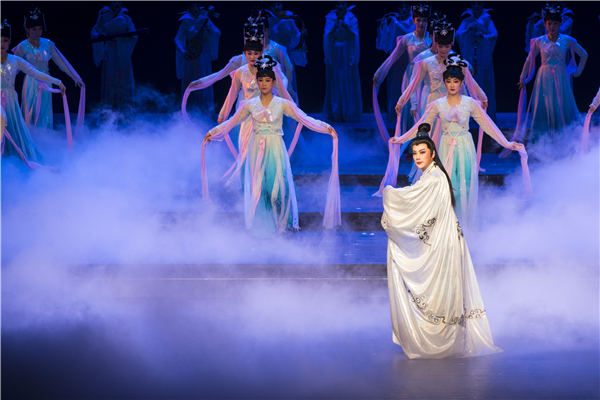 A Yue Opera troupe is set to launch a national tour of the all-female, traditional art form's most popular play.
The Shanghai Yue Opera Theater will begin a national tour with the traditional opera's most popular play, A Dream of the Red Mansions, in March.
The tour which began with two performances at the Shanghai Grand Theatre over Feb 18-19, will be staged in more than 20 cities on the mainland, as well as in Hong Kong through mid June.
Later this year, a condensed version of the play will be performed at the Beijing Zhengyici Theater.
"We have never had trouble with ticket sales. Wherever we present A Dream of the Red Mansions, it is always full-house performances," says Meng Liying, a veteran Yue Opera singer who is in her 70s.
Meng once played a supporting role in the play.
Qian Huili, a Yue Opera actress and deputy director of SYOT, says: "I have performed in the play more than 1,000 times."
The national tour has been organized in the memory of Yue Opera master artist Xu Yulan, who died last year at the age of 96. Separately, the tour also marks the 60th anniversary of the premiere of A Dream of the Red Mansions, by the Shanghai Yue Opera Company.
The premiere was the first successful theater adaptation of the literary classic in Chinese opera, says Wang Yueyang, a Shanghai-based theater critic.
The play's tragic love story is based on a Chinese novel written in the 18th century. And the interpretation of the characters by artists such as Xu Yulan and Wang Wenjuan in the play have played an important part in the development of Yue Opera, says Wang.
Speaking about how Yue Opera developed, Wang Yueyang says: "It took no more than a century for it to grow from a local folk ballad in a small part of the Yangtze River Delta into an opera of enduring popularity all over China."
Meanwhile, Qian says that though different schools of Yue Opera have developed since, the interpretation and style created by masters such as Wang Wenjuan and Xu has never been surpassed.
Qian also adds that all Yue Opera troupes in China have been influenced by the Shanghai company and its leading artists, a great number of who have died.