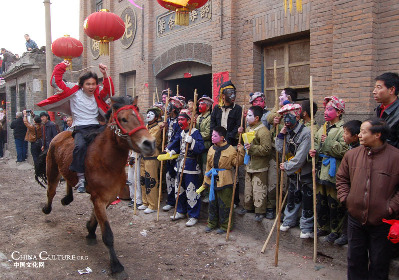 Thousands of spectators cheered as villagers rode bareback along a narrow rocky road through the ancient village of Xiadongzhai in North China's Shanxi province on Saturday, reviving a scene dating back to Tang Dynasty (618-907).
The race occurs every year in the village on the day following the Lantern Festival, which falls on the 15th day of the first month of Chinese lunar calendar.
This year, a record number of spectators packed in the 200-meter-long, 4-meter-wide course, as skilled riders raced without saddles or stirrups during the two-hour-long event.
"It was as exhilarating as the running of bulls in Spain," said Wang Xiaohu, a tourist from north China's Hebei Province.
The village is located at the foot of the Niangziguan Pass, a section of the Great Wall, which was an important military fortress from the Tang Dynasty.
Military couriers rode horses through the village during that time and this has evolved into a folk custom over the last 1,000 years. Nearly all villagers, from children to the elderly, are adept riders, said Yuan Yuxiang, Party chief of the village.
The ancient dirt road course has become so well worn that villagers spread earth on it to prevent horses from slipping during the event.
The custom was inscribed onto the provincial list of intangible cultural heritage in 2013. The village has revived the festival to encourage tourism. With over 10,000 spectators packing the narrow lane this year, the horse race created a thrilling scene.
"Villagers should continue the adventurous spirit of horse races," said Tong Huping, 44, adding that he returns to his hometown to take part in the race every year, no matter how busy his work is.
"The folk custom is bolstering our tourism development, increasing villagers' incomes, which in return helps maintain the heritage," said Yuan.