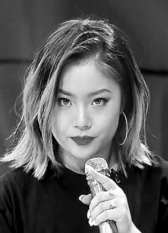 A summer talent show released on Tencent's video platform that's looking to create a leading girl group from China has been generating a huge buzz on the country's social media platforms.
Already running for a month, the top 11 contestant in the program's final tally of votes will go on to form a girl band looking to break into Chinese entertainment circles.
As the Chinese adaptation of the South Korean reality show Produce 101, domestic audiences are used to seeing wannabe pop stars sporting slim figures, white skin and a saccharine smiles to match the accepted image of a K-pop goddess.
However, this past week has witnessed a quick burst of overwhelming attention on a contestant named Wang Ju, who was once regarded as an unpromising outsider because of her perceived unattractiveness.
The 25-year-old, despite being relatively good at singing and dancing, was darker and more stout than her more conventionally glamorous competitors, and so far from the ideal image portrayed by modern girl bands that her performances met with derision from some netizens.
Wang responded to the wave of unfriendly jeers - "Hell is empty, Wang Ju is here" was just one example - with a wry sense of humor, rather than feeling dejected about her lack of popularity.
"Many people told me that I am not suitable to be in a girl group, but you have the opportunity to redefine China's leading girl group." She told the audience with an air of confidence after one of her performances.
On May 26, the program aired some old photos of Wang that showed she was once also a fair-skinned "Miss Sweetheart" with a good figure a few years ago.