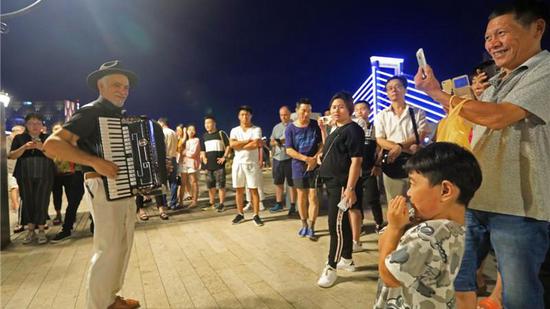 Jon, an accordionist from Spain, is among the first group of artists who received a pass to make a living on the streets of Ningbo city, eastern China's Zhejiang province—a local government-sanctioned program that sees benefits to allow more street artists for the urban and street art scene.
Earlier in May, an international art district in Ningbo made it a mission to attract a variety of artists to perform on its streets— by calling on people with talent to take part in a series of street talent competition.
As for return, the district issues its winners a quarterly pass which gives artists the rights to perform on the streets without being displaced.
So far, fifteen individuals and artist groups have been selected. Among those are painters, magicians, dancers and musicians, ranging from skilled professionals to enthusiastic hobbyists.
Many of them said the sanction program allows them to build a career with their passion and make a living.
"The pass gives me another chance to pursue music. Performing on the streets goes beyond the music itself. It's expressing joy to everyone". Fang, a university student who sings in a band says, people.cn reported.
On the reason to implement such program, a local official said it was a balancing act.
"On the one hand, street artists who are unregulated and disturbing to public spaces are a problem that needs to be addressed." Zhou Gang, a senior official at a local government office in Ningbo city said, people.cn reported.
"But on the other hand, the need for diverse culture in urban environment calls us to preserve the diversity and cultural richness those artists bring, so we followed the examples in some other Chinese cities and some abroad." Zhou added.
The act for regulating and encouraging art and culture on street-level was first harnessed by Shanghai in 2014, and has been expanded to multiple cities across China including Chengdu, Shenzhen, Changsha and Guangzhou, Chinese media reported.
But it doesn't mean all free terms and conditions.
In Shanghai, the chosen street artists are subjected to terms of regulations as not to violate public safety or harm the environment and so on.
How they will be selected is often done in a talent contest. And with their pass, they're allowed to make revenues with their performance.
In Chengdu city in southwestern China's Sichuan province, which is known for its vibrant street art scene, the procedure for the program is rigorous and mostly competitive, as only 30 percent of the street artists were selected for the pass.