Editor's note: Laurence Brahm first came to China as a university exchange student from the US in 1981 and has spent much of the past three and a half decades living and working in China. He is a lawyer, an economist and founding chairman of the Himalayan Consensus. He is also an award-winning documentary film director specializing in extreme Himalayan expeditions. His latest film Searching for the Lotus-Born Master (2018) has received a dozen international film festival awards and accolades.
Starting Nov 14, China Daily is publishing behind-the-scenes stories about the documentary every Wednesday, with nine episodes total. Please stay tuned and join this incredible journey.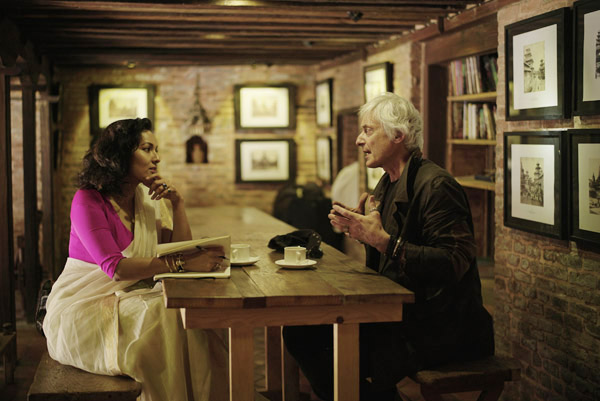 [Photo provided to chinadaily.com.cn]
In Lotus-Born Master's third manifestation, he became Loden Chokse. Damcho Rinpoche explained that Loden Chokse means the wisdom holder. And that the Lotus-Born Master was very wise. He could learn all Buddhist practices right away. We also learned from an interview with Sumnima Udas, founding director of Buddhism museum in Lumbini, that in ancient times, Buddhist universities taught many things including science, agriculture, medicine, architecture, and astronomy in addition to Buddhist philosophy.
莲花生大士的第三个化身是罗登确知。丹珠仁波切解释道,罗登确知的意思是,智慧持有者。莲师非常聪慧,顷刻间可通达一切佛法的修习。我们从蓝毗尼佛教博物馆创始人兼主任 Sumnima Udas 的采访中了解到,在古代,除了佛学经教外,佛学院也教授科学、农业、医药、建筑、天文等知识。