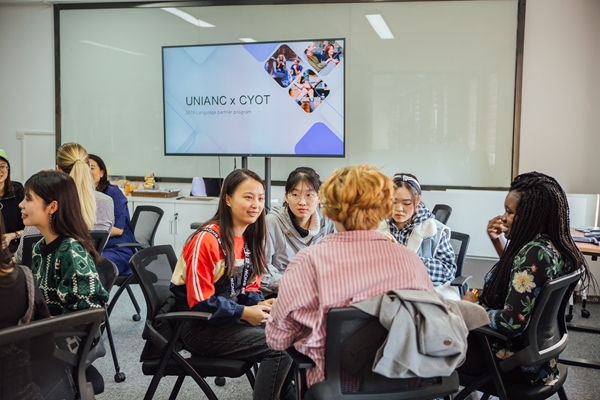 Nonprofit shows how dreams and ambitions can be achieved by those with limited resources, Xing Wen reports.
The past, it is said, can resemble another country. For Zhao Ya, her childhood seemed like another continent. A television set in her neighbor's home in her isolated village in southwestern China where she lived, and its flickering grainy images, provided the only opening to the outside world.
Her farmer parents were poor and Zhao used to leave their meager bungalow early in the morning to walk a rugged mountain path for some 40 minutes every day to attend primary school classes. After school she helped with household chores. One day she saw something on TV that changed her life.
"Our bungalow home didn't even have running water or a proper bathroom, but on TV there was a splendid penthouse in New York with a swimming pool," recalls Zhao. It was a moment of liberation-she realized life could be so much better.
Today, the 32-year-old has actually made it happen. Zhao has become fluent in English, Spanish, German and French, visited more than 80 countries, and has hobbies that include playing the ukulele, paragliding, diving and doing the tango.
She knows how hard it is for someone from an economically disadvantaged family to succeed.
"The only way for me to strive for a better life was by obtaining an education. However, with little guidance from my parents, I had to steer myself in the academic world on my own," says Zhao.
She wanted to help others and joined up with a couple of friends last spring and co-founded the China Youth of Tomorrow, a nonprofit social enterprise that aims to serve ambitious students from low-income families, who are called "first-generation college students".
The organization has launched projects that offer free professional and personal development training sessions, one-on-one mentorship and a robust network within its community to help these first-generation college students-especially those from rural areas.
Over the past year, more than 500 volunteers from top universities or renowned companies have reached out to those students.
"From my own experience, I realized how you unfold the future has a lot to do with who you meet," she says.
There were two particular "mentors" for Zhao, her head teacher in high school and the boss of a media company where she did an internship in her junior year in college.
In 2005, Zhao entered a high school in Chongqing where she gradually developed an interest in writing. Then she proposed to the head teacher that she wanted to set up a literature club.
"I thought the head teacher would turn me down, as the school usually put our academic performance first rather than hobbies, but to my surprise, my teacher encouraged and supported me," she recollects.
The club, soon after its birth, attracted more than 400 student members. Zhao regularly ran reading salons among schoolmates and made newspaper-styled collections of the articles written by club members. "As I prepared for the club activities, I grew to be increasingly confident and more effective at execution," she says.
After becoming an English major at a college in Fuzhou, East China's Fujian province, the dream of studying abroad germinated in her mind. However, she was well aware that it was impossible for her family to afford it.
Zhao decided to place the idea in cold storage until the media company boss suggested that she could apply for a job overseas.
She was encouraged to send job application emails to as many companies as possible and, in early 2011, she finally got an offer from a winery in France, where she ended up working for the following eight years.
Zhao was later appointed as a marketing manager to help expand the winery's market in Asia.
In 2013, she won the opportunity to be sponsored by her employer to study a two-year MBA program at the University of Strasbourg.
So thereafter, Zhao not only became the first one in her family to earn a college degree, but also the first one in the whole village to study abroad.
"I think that finding inspiring mentors is crucial for one's development," says Zhao. "Without their direction, it was hard for me to grasp chances and climb the career ladder."
Xue Guofang, 22, studies international financial law at Shanghai University of Finance and Economics and is a beneficiary of the one-on-one mentorship program.
Speaking of the vital help from her mentor, Xue says: "I wasn't certain about what kind of career I wanted to pursue and also failed to spot my priorities. My mentor patiently analyzed the pros and cons of different paths I might choose, until I became very clear that I wanted to be an international arbitration lawyer."