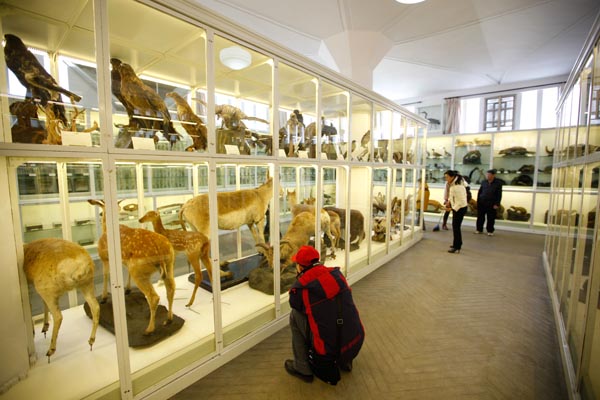 TIANJIN-With more than 20,000 rare specimens, from hairy rhinoceros and wild donkey skeletons to fossils unearthed locally, the collection left by French Catholic Jesuit priest and naturalist Paul Emile Licent (1876-1952) a century ago is well preserved in the museum that he built in North China's Tianjin city.
The three-story Beijiang Museum, which is the predecessor of the Tianjin Natural History Museum, was founded in 1914 and quickly became regarded as one of the finest museums in the world, collecting accolades in the 1920s and 1930s.
While hosting visitors in the antique building located on the campus of the present-day Tianjin Foreign Studies University, Zhang Caixin, the incumbent curator of the Tianjin Natural History Museum, says the century-old Beijiang Museum was reopened to the public in 2016 after a 78-year hiatus.
During the War of Resistance Against Japanese Aggression (1931-45), in 1938, Beijiang Museum was closed when Licent was called back to France. When he left Tianjin, he only brought with him his personal belongings and left all his scientific research in the museum in Tianjin.
The museum still keeps matchboxes and soap boxes that Licent used to store specimens, which show how he scrambled to conduct his research with very limited funds.
Based in Tianjin, Licent carried out 25 years of field excavations in North China, covering a journey of about 50,000 kilometers.
A renovation of the museum was proposed in 2014 on the occasion of the 50th anniversary of the establishment of diplomatic relations between China and France, and the 100th anniversary of Licent's visit to China.
The renovation of the museum encountered difficulties, but the old building was fixed and all of the fossils were reinforced using special techniques and, when it was finally reopened, were displayed in their original exhibition arrangements, Zhang says.
"It was the first natural history museum in northern China, and the museum itself has become a 'living fossil' recording the development of early Chinese museums," Zhang says.
As well as technology to stabilize the temperature and humidity, the museum has introduced various digital solutions to allow visitors to enjoy virtual tours, even during its recent closure due to outbreak of COVID-19.
The museum has played a key role in many exchanges between China and France, most recently on May 14 when French Sinologist David Gosset visited the museum.
"It is such a great treasury, which has witnessed the science and cultural exchanges between the East and the West," he says.