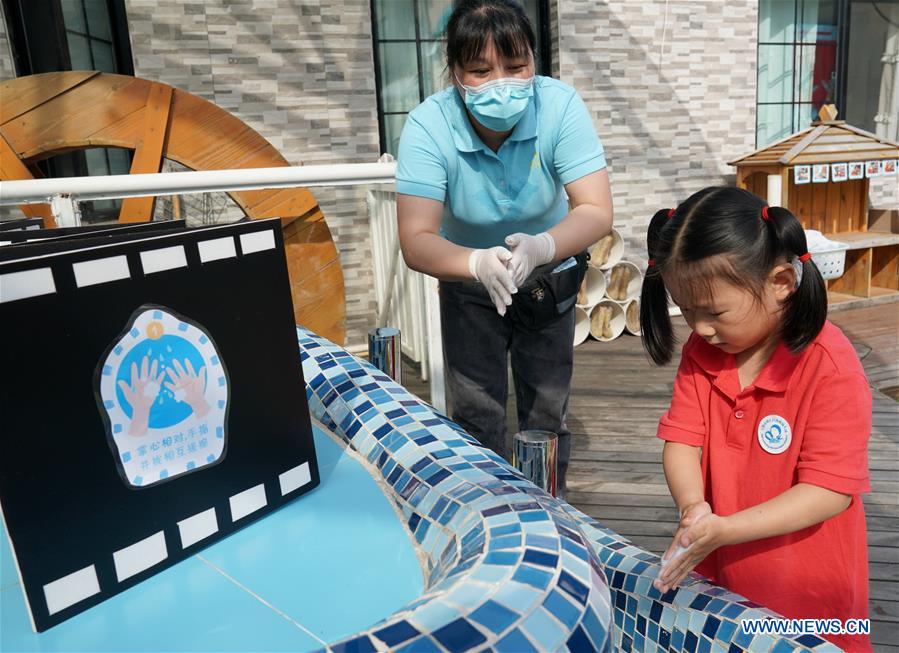 A girl washes her hands under a staff member's instruction at Meilong Kindergarten in east China's Shanghai, June 2, 2020. All public kindergartens in Shanghai have reopened Tuesday with COVID-19 prevention and control measures applied. Meanwhile, the city's non-public pre-school educational institutions will reopen in phases. (Xinhua/Liu Ying)
SHANGHAI, June 2 (Xinhua) -- More students in the Shanghai Municipality returned to school as public kindergartens and the first to third grades of primary schools reopened on Tuesday.
Private child-care institutions will also reopen as a result of COVID-19 infections waning in the city.
Related departments jointly carried out inspections in advance. They prepared sufficient epidemic prevention materials and launched exercises for epidemic prevention and control before the reopening.
Prior to this, junior and senior high school students and fourth and fifth graders in primary schools resumed classes on campus.
Shanghai reported one new imported COVID-19 case and zero increases in locally transmitted COVID-19 cases on Monday, the municipal health commission said on Tuesday.
Students had a prolonged winter vacation and later had classes online due to the spread of the novel coronavirus. To date, most students across the country have returned to school for their spring semester.
1 2 3 4 5 6 7 8 9 10 Next 1 2 3 4 5 6 7 8 9 10 Next