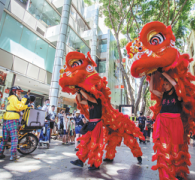 Lion dance parades bring life to Sydney's Chinatown. HU JINGCHEN/XINHUA
SYDNEY-With drums and cymbals playing, a lion dance troupe marched through Sydney's Chinatown, bringing joy to both businesses and passersby. The Sydney Choy Lee Fut lion dance team performed in both hot weather and rain on the past few Sundays to promote the Chinatown precinct and attract patrons to return as recent COVID-19 outbreaks in the state of New South Wales subside.
"The idea is that the pandemic has taken everyone out of Chinatown. A lot of businesses everywhere have shut down, and everyone's spirits are a little bit low because of last year," Sydney Choy Lee Fut director Paul Numchong says.
"So this is a way to lift their spirits and also bring people back into Chinatown."
Choy Lee Fut, which runs Chinese kung fu, qigong (breathing exercise) and lion dance classes, has been part of the Chinatown community for over 40 years.
Numchong says many people have come to them to learn Chinese martial arts and have started liking lion dance, as the two are related.
"Traditionally, you train (in) kung fu, which enables you to do lion dance, because the skill is all about the movement… and the footwork," he says.
"But nowadays, we teach everyone because it is something fun to do. It keeps you fit and healthy and strong. A lot of Westerners like this."
Anna Lamont is a lion dance team member. She loves the lion dance and often volunteers to perform in her spare time.
"Since I was a child, I've always wanted to do kung fu …I've been training at the school since 2017, and started lion dance pretty much straight away," she says.
Lamont has found that learning lion dance can be both challenging and rewarding.
"In the beginning, it is challenging, because your body is not used to moving that way. Apart from remembering the routines and the steps, it is also (about) learning how to handle the weight of the lion's head," she says.
"But it's so versatile, you can learn so many skills through doing lion dance … and the way everyone is here, it actually does make you feel like you're part of a big family."
Lamont was in charge of securing a grant for the performance.
She says it is important for the local community, especially the business community, to have the feeling that things will get better.
"And, making everyone get their spirits up and feeling like, 'yeah, we can do this. We can get through this'," she says.
Steve Chen from Taiwan agrees. Apart from cheering for businesses, he was glad that more people can get to know about traditional Chinese culture through the lion dance.
"To be honest, it's very exhausting, but I think even for me as a Chinese, it's a rare opportunity to get involved in the activity, and I'm honored to participate in it," he says.
"I think this is a kind of inheritance and I'll stick to it."