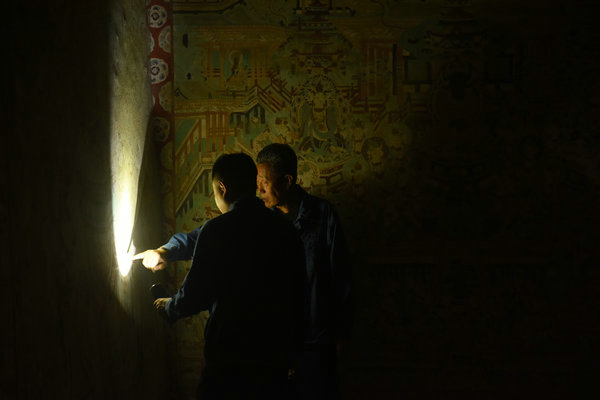 The Master of Dunhuang, a documentary series about artisans and researchers dedicated to preserve and popularize Dunhuang's centuries-old heritage, is set to debut on the streaming site Tencent Video on Sept 7.
Each of the three episodes follows a group of staffers at Dunhuang Academy, who have spent years devoted to their respective fields, ranging from restoration of cultural relics to archaeological research and digitalization of cultural heritage.
The first episode features Li Bo, a mural restoration expert, teaming up with his student to conduct a pivotal experiment, which aims to safely separate overlapped murals created during different dynasties.
The second tale in the series is about Zhang Xiaoyang, a young archaeologist who works at Mogao Cave 254. Amid the arduous and stressful routines, Zhang discovers she is facing a fork in her career — to continue the research with an uncertain prospect or accept a new offer from a college.
The final story centers on Wu Jian, former director of the academy's conservation and research department, and his successor, Yu Tianxiu.
The documentary will release a new episode, each lasting around 40 minutes, every Wednesday night.