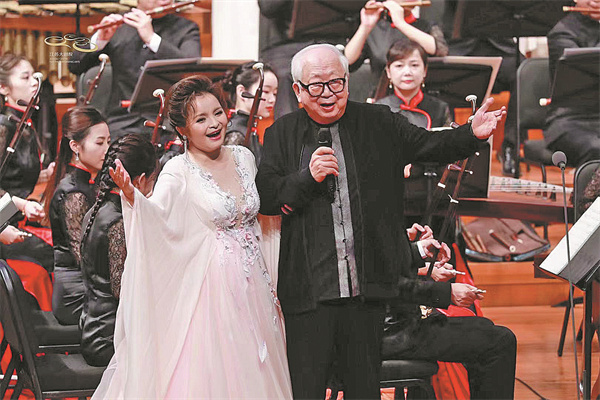 Over a year ago, when Shaanxi Opera House started to prepare a grand celebration for its fifth birthday this year, a number of ideas were suggested and one of them in particular gave the planners goose bumps.
As 2022 marks the 35th anniversary of the first airing of Chinese TV series, Dream of the Red Chamber, a 36-episode series based on the novel written by Cao Xueqin during the Qing Dynasty (1644-1911), the opera house decided to launch a series of events to take audiences down memory lane and showcase different interpretations of the classic novel featuring art troupes from around the country.
On Friday and Saturday, two concerts will be held at the opera house featuring performances by the Xi'an Symphony Orchestra and its chorus in Xi'an, Shaanxi province. Under the baton of conductor Zhang Lie, the concerts will feature well-known music works and songs from the 1987 TV series.
Some of the cast members of the TV series will reunite for the event, including actor-turned-director Ouyang Fenqiang, who played the role of Jia Baoyu, actress Deng Jie, who played the role of Wang Xifeng, actress Guo Xiaozhen, who played the role of Shi Xiangyun, and Gao Liang, who played the role of Jia Lian.
Unfortunately, one of the leading actors, Chen Xiaoxu, who played the role of Lin Daiyu, died of breast cancer at the age of 42 in 2007.Zhang Hailing, who voiced the role for Chen, will join in the reunion in her stead.
Dream of the Red Chamber chronicles the downfall of the Jia family during the Qing era, and is set against the backdrop of the country's social and political upheavals. There are hundreds of characters in the novel, led by the rebellious and pampered young man, Jia Baoyu, and his ill-fated love interest, the melancholy Lin Daiyu.