Aiming to inspire the people of various countries to learn Chinese, the video series The Imagination of Artwas released on Oct 24.
The project, jointly produced by the Center for Language Education and Cooperation and Central Academy of Fine Arts, selects multiple art pieces created by four artists from Central Academy of Fine Arts, respectively Wu Jian'an, Kang Lei, Lu Zhengyuan and Zhang Fan.
Under the theme of "Chinese language plus arts", the series is comprised of two parts. The first part contains four episodes, each featuring one artist. The second part will see education experts guide Chinese learning from the four artists' works.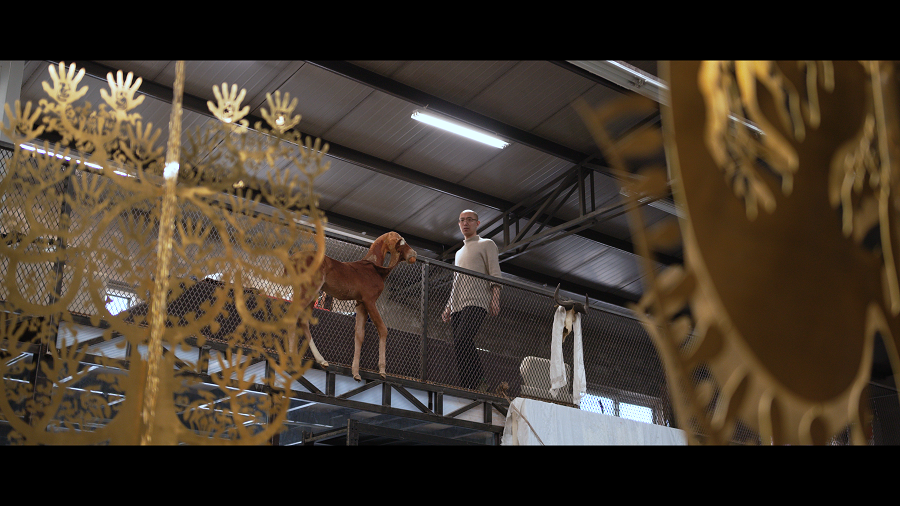 Artist Wu Jian'an. [Photo provided to China Daily]
In the first episode, Wu, also deputy director of Fine Arts Experimental Art School at the academy, shares his creation procedure of The Heaven of Nine Levels, a hand-carved cowhide piece inspired by ancient China's mythological collection Shan Hai Jing (The Classic of Mountains and Seas).
The second episode features The Garden of Forking Paths, artist Kang's painting which takes its title from Argentine writer Jorge Borges' namesake novel.
The work demonstrates Kang's reflection on time, as she paints different sceneries and objects in different places and at different times in the world to record her feelings and experiences.
The other two episodes are respectively about Lu's work Solid Liquid, a set of hundreds of glassware-made masks hung in midair, and Zhang's work Tianxin, uses the materials of stones and fine gold wires to examine the relationship between nature and humankind.