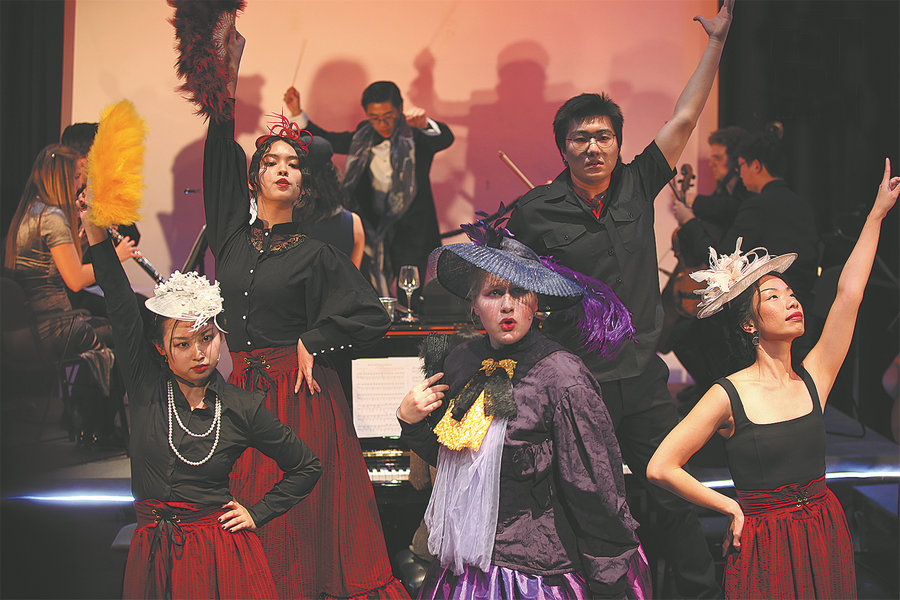 Musical by Chinese students that charts how legendary fashion designer overcame life's early struggles wins acclaim, reports Xing Yi in London.
When Tan Tianjiao posted a recruitment notice online in January, looking for like-minded people for her graduate musical project in London, she was determined that it would be a student production that didn't feel like a student production.
As a postgraduate musical theater major at Goldsmiths, University of London, Tan stamped the project with her own brand of determination and skill.
Gabrielle, the one-hour musical that Tan and her team finally staged in October, centers around the founder of the luxury brand Chanel — Gabrielle "Coco" Chanel.
"From the beginning, I wanted this musical to be different from other student productions, with better stage design and props, actors wearing clothes that actually correspond to the era of the play … and for the audience to be more than just the family and friends of those involved," says the 25-year-old producer.
"As I had participated in some professional musical productions in China, such as Once Upon a Time in Fudeli, I established the standards for our project," says Tan.
"Everything — from the music to costumes for the cast — was created by ourselves," Tan says proudly, adding that a documentary of the production has also been produced and will be released soon.
As a legend in the fashion world, there are many books and films about Chanel, but few have focused on her obscure early beginnings. It was the coming-of-age story of how the young Gabrielle became the legendary "Coco "that interested Lyu Yunqian, the writer of the musical.
"I'm fascinated by the controversy surrounding the so-called moral wrongness of Gabrielle Chanel's early life, which, personally, I believe is more about courage and creativity than outrageousness," Lyu says.
"This kind of sophistication overwhelmed me while I was writing about it. Hopefully, that will be the one thing that lingers in everyone's mind after watching the piece."
The musical recounts Gabrielle Chanel's story, starting from when she was admitted to an orphanage following the death of her mother. It also shows her singing in bars to make money, the romances she had with her benefactors and her early business selling hats.