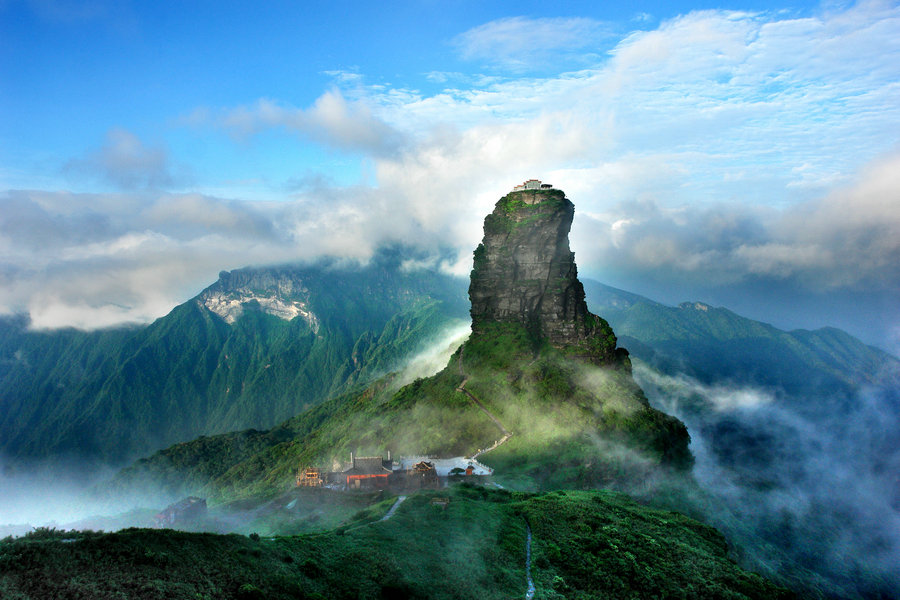 Fanjing Mountain nature reserve attracts visitors with its stunning scenery and upgraded facilities, Xu Lin and Yang Jun report.
Editor's note: China is home to 56 UNESCO World Heritage sites. To find out how these natural and cultural gems still shine and continue to inspire the nation in this new era of development, China Daily is running a series of reports covering 10 groups of selected sites from across the country. In this installment, we wander deep into the mountains of Guizhou province to explore its diverse landscapes and ethnic traditions.
With troops of naughty monkeys, imposing bears, coiled snakes, precious flora and fauna, and vertiginously placed ancient architecture, the amazing beauty of Fanjing Mountain in Tongren city, Southwest China's Guizhou province, which resembles a wonderland, is an internet sensation.
The area's fame reached its peak, literally, in 2018, when Fanjing Mountain, or Fanjingshan in Chinese, was added to the UNESCO's Natural World Heritage List due to its rich biodiversity, with the locale boasting more than 7,100 species of wild animals and plants.
"It's important to cultivate a region's unique value from a global perspective to apply for the list, and Fanjing Mountain meets that standard," says Rong Li, a professor from the School of Geography and Environmental Science, Guizhou Normal University, one of the experts who participated in the site's application.
In 1978, Fanjingshan National Nature Reserve was established to protect the area's precious wild animals and plant species, along with the virgin forest ecosystem in which they thrive.
To balance ecological protection and tourism development is an issue for such a nature reserve. It can't be achieved without input from locals, the authorities and experts.
"The successful entry into the list saw tourism to the mountain hit record numbers in 2019," says Tao Huayuan, head of Wuling Scenic Area Management company, which is in charge of the Fanjing Mountain scenic area. "Due to the sporadic cases of COVID-19, tourism is recovering slowly."
The number of tourists in 2019 was about 1.45 million, but this July — usually peak season — the figure was only about 217,000.
Tao says the development of the mountain's tourism is based on strict protection of the ecosystem. He's looking forward to the establishment of Fanjing Mountain National Park, which was approved by the authorities in May.
"Our next plan is to build an all-in-one destination with Fanjing Mountain as the center, together with its surrounding scenic areas. It means that tourists are more likely to prolong their stays to three or five days," he says.
To meet the diversified demands of visitors, they plan to produce creative cultural products and develop health and wellness tourism. They will also construct an exhibition hall centered on local wildlife.
The locals have moved out of the core area of the nature reserve and settled down in homes built by the government.
To develop communities, the scenic area's job opportunities prioritize locals, so they don't have to go to work in big cities.
They can also stay in their hometown and start tourism-related businesses, such as opening homestays.
Among them is 50-year-old Yang Yuanju, from Zhaisha Dong village at the foot of the mountain. In 2011, she opened a homestay aided by an interest-free loan from the local government, a debt she was able to pay back within two years.