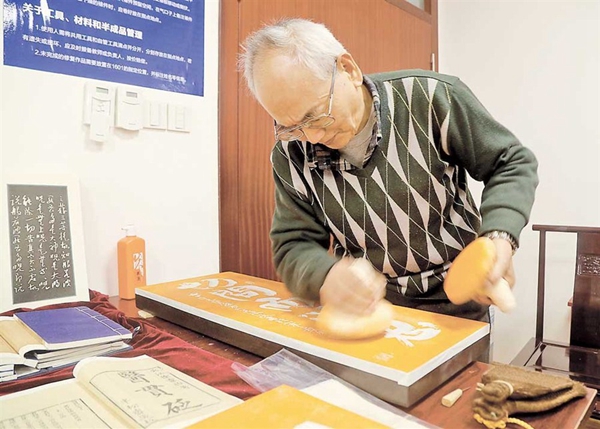 Zhao Jiafu, a master on ancient book preservation and restoration, displaying his skills yesterday at Fudan University. — Dong Jun

Researchers have rediscovered how to make a traditional Chinese paper — thereby making the repair of ancient books much easier — Fudan University announced yesterday.
Experts in Chinese history, biology and chemistry studied ancient papers and found the wikstroemia plant was the main material for making a traditional Chinese paper that was produced in Kaihua County, Zhejiang Province, said Yang Yuliang, former president of the university and current dean of its Institute of Ancient Books Protection.
Kaihua paper, which could date back to the Tang Dynasty (618-907), was renowned for being white, smooth, thin, tough and long-lasting. It was considered so precious that it was a favored choice of emperors.
It was also used to print many important ancient books, such as the Kangxi Dictionary in the Qing Dinasty (1644–1911).
But the craft died out with the use of more production efficient and cheaper paper.
The Fudan team found the way to cultivate wikstroemia to make Kaihua paper.
"Some ancient papers can be preserved for more than 4,000 years, while modern papers can only be kept for 200 years," said Yang.
"Modern papers deteriorate much more quickly than the traditional papers. We have already seen such problems in batches of ancient books repaired with modern papers in 1960s."
Fudan established the Institute of Chinese Ancient Books Protection in 2015.