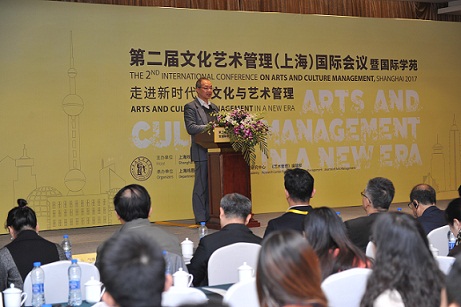 The 2nd International Conference on Arts and Cultural Management is held in Shanghai on Dec. 11-14. [Photo/People.cn]
China's first arts management journal is to come out early next year, as announced at the 2nd International Conference on Arts and Cultural Management in Shanghai.

Titled Arts Management, the bilingual journal founded by Shanghai Theatre Academy will be issued to the public both at home and abroad in the spring of 2018. Not only is it the first academic journal specializing in the study of arts management, it is also the only exclusive academic journal under Art Theory, a first-level discipline.

Since the 1980s, there have been many professional journals related to arts management established by foreign educational institutions and scientific research institutes, such as the Asia Pacific Journal of Arts and Cultural Management (Australia), ENCATC Journal of Cultural Management and Policy (Belgium), International Journal of Arts Management (Canada), Journal of Arts Management, Law, and Society (America) and so on.
To the contrary, in China, a large number of papers, research topics, reports and case studies are scattered in newspapers and periodicals. There is no academic journal on either arts management or art theory until the publishing of the upcoming Arts Management.