The 'Enjoy! It's from Europe' two-week promotion kicked off on November 6 at eight leading European cuisine restaurants in Shanghai. A gala gourmet lunch was held at La Maison restaurant in Shanghai to mark the kick off of a two-week European restaurant promotion entitled "Enjoy! It's from Europe". This two-week restaurant promotion will take place at eight top European restaurants in Shanghai. At the launch event, VIP guests, media and influencers were served a three-course European cuisine lunch featuring high quality ingredients from countries such as Spain, Italy, France, Germany, Portugal, Ireland, The Netherlands, Denmark, Greece, Poland, Bulgaria, Hungary, Sweden and Belgium.
"Enjoy! It's from Europe" Shanghai Restaurant Promotion Opening
"Many Shanghai consumers have travelled to Europe where they discovered the diversity and quality of European cuisine, wine, beer and spirits. This restaurant promotion is a good opportunity for consumers to take a gastronomic journey without leaving Shanghai — it's a chance to explore the traditional cuisines of Europe by visiting the eight restaurants participating in the 'Enjoy! It's from Europe' restaurant promotion," said Ferran Edo Andreu, Head Chef, The Lab in Shanghai. "For today's Shanghai consumers, their attraction to European cuisine and food products is driven not only by their taste buds, but also by the recognition that Europe is home to safe, high quality and authentic food and beverages." The production of all EU labelled food and beverage products follows strict hygiene regulations and control systems to ensure the safety of products and food establishments, for staff and consumers.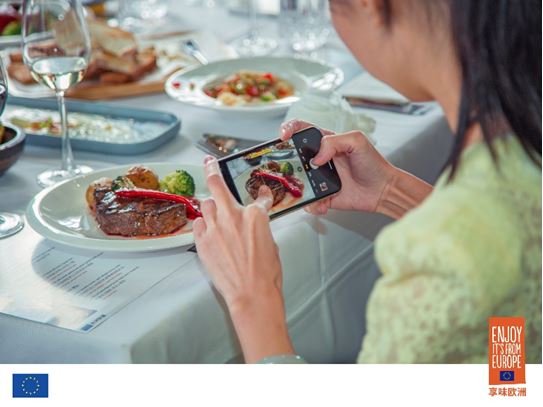 Consumers enjoyed the EU dishes
"Enjoy! It's from Europe" Restaurant Promotion: Key Details
The "Enjoy! It's from Europe" restaurant promotion kicks off on November 6 and ends on November 20. Shanghai consumers will have the chance to experience a range of safe, high quality and authentic EU foodsand beverages at the following restaurants:
ŸLa Maison, a French restaurant located at 210 Jinxian Road, Huangpu District
Pirata, a Spanish and Portuguese restaurant located at Building 6, Columbia Circle, 1262 Yanan Xi Road, Changning District
ŸTomatito, a Spanish, Mediterranean and European restaurant located at Unit 08-10, 3/F, Infinitus Mall, 168 Hubin Road, Huangpu District
ŸAnarkia Craft Kitchen, a Mediterranean Fusion restaurant located at 1/F, 462 Changle Road, Huangpu District
ŸCotton's, a Mediterranean and European restaurant located at 132 Anting Road, Xuhui District
ŸPierogi Ladies, a Polish restaurant located at Lane 283, 8 Jiaozhou Road, near Xinzha Road, Jing'an District