Since the mandatory garbage sorting legislation took effect in Shanghai on July 1, citizens have gradually formed the habit of sorting garbage. The capacity of disposing household garbage in the whole city has steadily improved, and the daily collection of household food waste has increased by 82 percent, compared with that of the end of last year.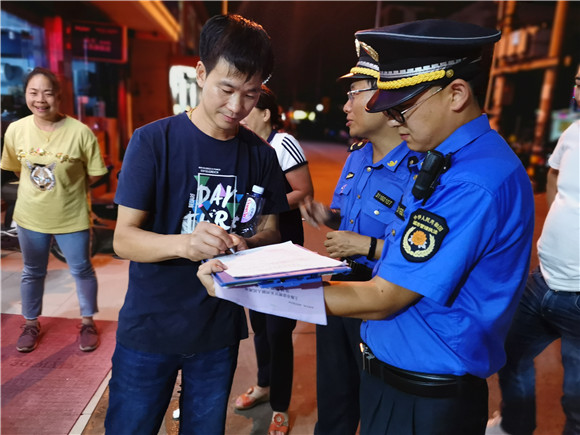 (Urban management staff carrying out an inspection.)
According to data from the Shanghai Municipal Greening and Appearance Administration, since the Shanghai Household Garbage Management Regulations took effect in July, the daily collection for household food waste has seen an increase of 15 percent over that of June, and the collection for recyclable garbage has gone up by 10 percent from 4,000 tons per day. The amount of residual waste has decreased by 11.7 percent in comparison to last month, showing that it is being sorted more responsibly.
Currently, the system for separate collection in Shanghai has basically taken shape. There are over 1,090 garbage trucks for household food waste in the city, nearly 3,200 for residual waste, 80 for hazardous waste and 154 for recyclable garbage. Meanwhile, 8,778 recycling stations, 138 transfer stations and 8 dump yards have been established for recyclable garbage.
In addition, 24,000 tons of residual waste and household food waste are being burnt or reused per day.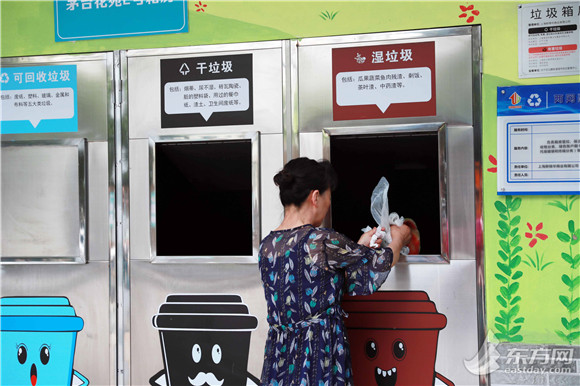 (A resident places household food waste into a designated dustbin.)
As we are giving a thumbs up to the citizens in Shanghai, some weaknesses at the present stage also need our attention. Based on the statistics from the Urban Law Enforcement Bureau, the urban management team has handled 872 cases related to household garbage sorting over the last month, and instructed 8,655 people or organizations to make corrections on the spot or within a definite time. Among those cases, failure to classify the garbage is the most serious problem, with megamalls and business buildings being the worst areas.
For the next stage, the government will intensify law enforcement against people and small restaurant owners dropping garbage randomly in the street.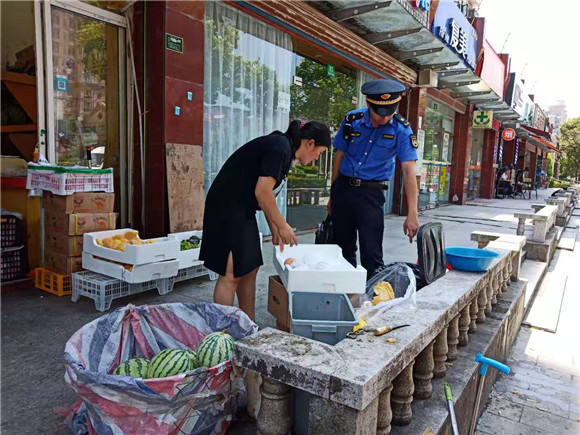 (Urban management staff inspect a street vendor.)