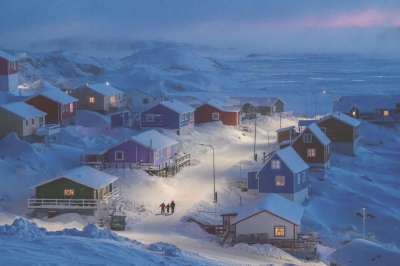 The grand prize for the 2019 National Geographic Travel Photo Contest was awarded to Chu Weimin, a post-90s photographer born in Southwest China's Chongqing.
The green hills and clean water of his birthplace endowed Chu with a sense of intimacy with nature. When Chu went abroad as a foreign exchange student, he was fascinated by the beauty of the Alps and fell in love with taking outdoor trips. Three years after graduation, following his heart, he changed his job from a software engineer to a professional photographer.
The award-winning photo was taken on his third trip to Greenland, when he took a picture of a picture-postcard snow-covered village of colourful cabins, and a family of three walking through it under the dim street lights.
Regarding future plans, Chu has decided to focus on the magnificent but lesser-known scenery in Pakistan and China for the long term. "I hope the audience will have a more comprehensive understanding of other places in China and abroad through my future photography projects," said Chu.
"In addition to common scenic spots, there are many unique natural wonders in China that are as marvelous as the wondrous Yellowstone National Park or Alps," Chu added.
Currently, he is also gradually accumulating materials by photographing China's infrastructure landscape. According to Chu, landscape photography is not necessarily limited to the natural environment, the interaction between the local people and the landscape should also be considered, which is very important to help understand the regional traits and human temperament. Besides news photographers, few professional photographers have paid attention to bridges, tunnels and railway projects in China.
Chu admits that nowadays more and more people are taking photos and short videos of the scenes in Chongqing thanks to the accessibility and popularity of camera and video equipment, so he hopes to tell the story of his hometown from a differentiated perspective as a professional photographer.