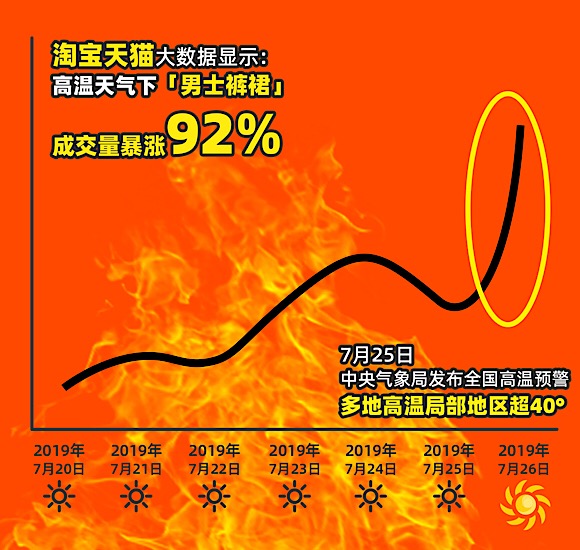 (The turnover of baggy harem pants for males soars thanks to the scorching weather.)
How hot has this summer been? A total of 17 days in July saw alerts for extreme heat issued by the Central Meteorological Observatory. How can we seek refuge from the sweltering weather? Data from several e-commerce platforms give us some options - baggy harem pants for males, a small fan with a string around people's necks, a facekini and ice sleeves.
Baggy harem pants for males soared by 92% on Taobao
It's generally acknowledged that skirts are for women. But according to the data from Taobao, the blazing weather is forcing men to purchase "skirts" online. On July 26, there was a jump of 92 percent in the sales of men's baggy harem pants, which look like skirts when the Central Meteorological Observatory issued an alert over high temperatures, saying that "heat alerts are posted across China with temperatures in several places reaching 40 degrees centigrade".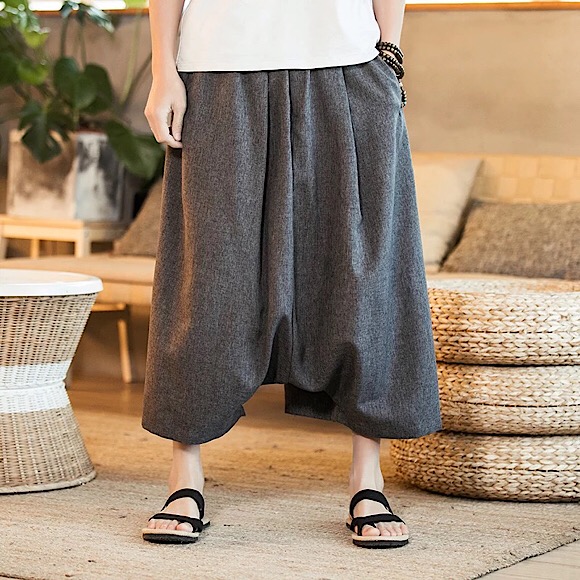 (Top-selling male baggy harem pants)
With more and more men flocking into the online shopping sites for male baggy harem pants, sellers on Taobao have been inundated with orders. An online customer service staff member on Taobao says short skirts and shorts for women in summer are emerging in an endless stream, while men, who tend to sweat more, have fewer choices in clothes for the summer. The popularity of male baggy harem pants provide males with benefits like sun blocking and heat dissipation, and an appropriate way to dress for the workplace. Some experts also claim that men should wear skirts more than women for the sake of physical health.
Other hot items for sunstroke prevention
As the scorching heat wave reaches its peak this summer, more and more consumers have been seeking useful products for sunstroke prevention online.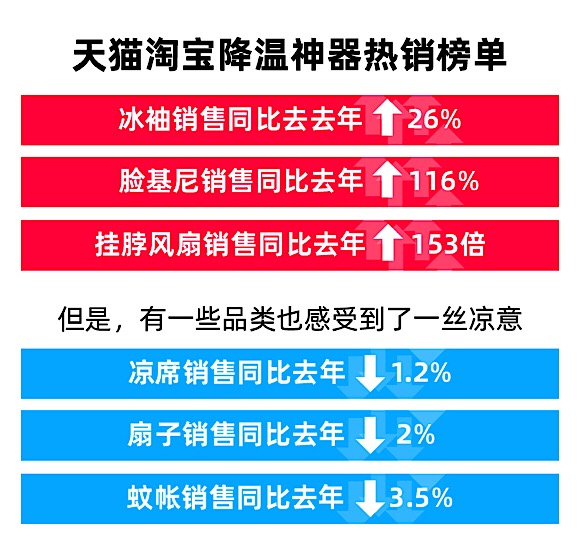 (Small fans with a string hang round people's necks, facekinis and ice sleeves are very "in" this summer.)
A small fan with a string round people's necks that can cool you down even when you are walking outside has become all the rage. The data from Taobao and Tmall shows that since the dog days began, sales of this type of portable fan have grown 153 times over the same time last year. Among the consumers females account for 74 percent and most of them are post-90s.
The sales for a combination of facekinis and ice sleeves have also skyrocketed, from which we can tell that people now are really armed to the teeth against the sun's rays. A netizen said online, "The feeling of coolness can last for an hour, which is a must-have for outdoor activities."
Popsicles still remain very popular in summer. Dongbei Popsicle's sales have seen a 565 percent year-on-year growth, making it the new favorite for post-80s females in Shanghai.
In addition, air conditioners, WiFi routers and watermelons still have a mighty mass base, steadily holding the front row of sales on e-commerce platforms.
It's also worth mentioning that the high temperature also gives rise to products for pets to cool down, such as ice bags and air conditioners for pets. But sales of some traditional products to prevent sunstroke have more or less decreased. In this summer, sales for fans have declined by 2 percent, summer sleeping mats by 1.2 percent and mosquito nets by 3.5 percent.