Due to the attractively warm high temperature, parts of Africa are attracting a large number of Chinese tourists for their summer vacation.
Due to a large amount of Africa being located over 1000 meters above sea level, most of the inland regions in sub-Saharan Africa remain at a temperature between 20 and 30 degrees centigrade all the year round. Even the elevated areas of countries around the equator, such as Ethiopia, are relatively cool, with Addis Ababa having a maximum temperature of 19 degrees today.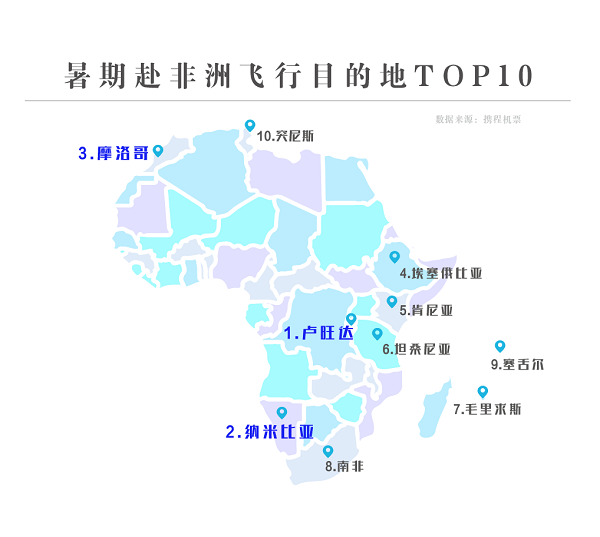 According to Ctrip, one of China's largest online travel agencies, the top ten most popular destinations in Africa for this year's summer vacation are Rwanda, Namibia, Morocco, Ethiopia, Kenya, Tanzania, Mauritius, South Africa, Seychelles and Tunisia. Among them, bookings for flights to Rwanda have increased by 200%, Namibia by 170% and Morocco by 140% year on year.
Favorable factors beyond the climate, such as an increase in direct flights and relaxation of visa requirements, have stimulated tourism to Africa. In addition to the increasing direct flights to Africa from first tier cities such as Beijing, Shanghai and Guangzhou, cities like Shenzhen, Changsha, Chengdu and Wuhan have also opened up direct flights to Africa, making it more convenient to travel to the continent.
"Morocco, Mauritius, Seychelles and Tunisia have signed visa-exempt entry agreements with China, while Ethiopia and Rwanda offer Visa on Arrival (VOA) to Chinese passport holders," said Shao Jihong, senior director of Ctrip's Business Department. Due to this policy, the cost and trouble of travelling to Africa has been reduced. Data from Ctrip shows that the average price of flights from China to those less popular African destinations this summer is about 3,000 yuan in economy class, a decrease of 8 percent compared to the same period last year.
Shanghai ranked first among the top 10 cities for air ticket bookings to Africa, followed by Guangzhou, Beijing, Shenzhen, Chengdu, Xiamen, Qingdao, Chongqing, Hangzhou and Xi'an.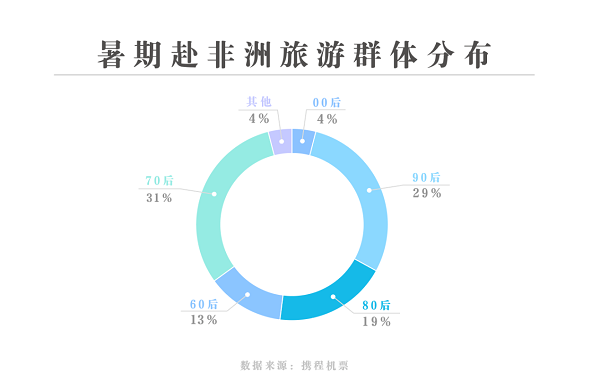 The enthusiasm of the post-70s and post-90s generations for traveling to Africa is the highest. Among the travelers who booked tickets to Africa by Ctrip, the post-70s accounted for 31%, the post-90s for 29%, and the post-80s for 19%. Furthermore, people who travel for less than 7 days account for only 24%; while people deciding to travel for more than 13 days account for 43%. This shows that Chinese people are now both more able and more inclined to travel for longer when possible, and when the distances involved make it more sensible.