According to the latest weather forecast, typhoon Lekima is going to produce a heavy storm in Shanghai from August 9.
At 5pm on August 7, the National Meteorological Center (NMC) of the China Meteorological Administration elevated the strength of Typhoon Lekima to "strong". At 6pm, the NMC then issued a blue typhoon warning signal for the Typhoon Lekima and elevated it to a super typhoon.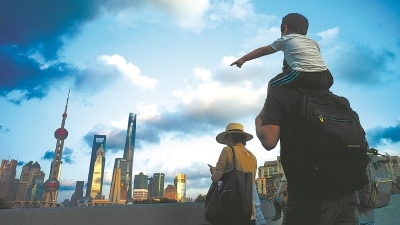 As the latest forecast of typhoon Lekima's track from NMC, the center of the typhoon is likely to go straight through the central districts in Shanghai from the south to the north this weekend.
The wind will get stronger in Shanghai in the following days, and the maximum wind force will vary from eight to ten from August 9 to 11. In districts around the western Yangtze estuary and the coastal areas, there will be force 11 winds, and in the eastern Yangtze estuary force 12. The wind won't weaken until the night of August 11.
Isolated showers will occur in Shanghai in the daytime of August 9, and it will become heavier at night. The strong rainfall period will fall on the night of August 9 to August 10. There will be extreme rainstorms in some districts, and it's predicted that the total precipitation could reach 120 to 180 millimeters with individual places having a maximum precipitation of 200 millimeters.
On August 11, it will be mainly overcast.