Music Fountain Square to open before Oct. 1
The Music Fountain Square, located in Shanghai People's Square, is a long-standing tourist attraction. Built in 1994, the square has been undergoing an upgrade recently on the premise of keeping the original surrounding landscape unchanged.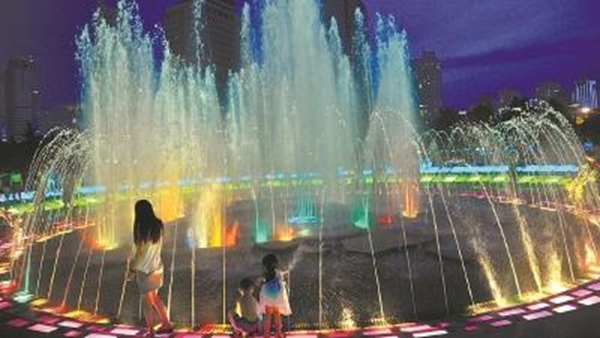 In addition to strengthening the underground space and repairing the surface stones, other aspects of the music fountain will also be upgraded before being officially opened to the public before the National Day.
The signage system of the square will keep Magnolia as its emblem. Classical bronze and rose gold will be used as the predominant colors in the new design, complementing the surrounding environment.
Taking the practicality into consideration, the materials of the newly-renovated benches are more durable, comfortable and beautiful than before. Strip LED lamp belts will also be added along the benches to improve the night scene effect.
The visual effect of the reconstructed fountain landscape will be greatly improved because of the upgrade of the fountain equipment and control system. For example, the lighting system will be flexibly transformed under the control of computer programs. With the rhythm of music and lighting changes, the music fountain will be able to create more water curtain effects after the renovation.
In addition to all this, a new water treatment circulation system will be added.