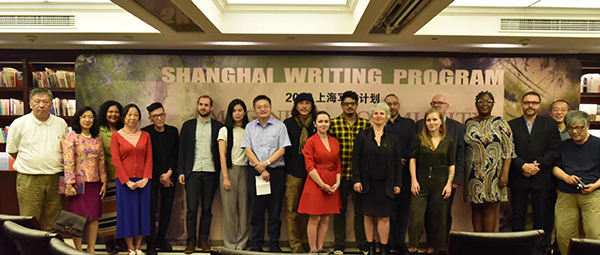 Yesterday afternoon, Writer's Bookstore, located on 677 Julu Road, saw a gathering of a group of foreign writers from all over the world, marking the launch of the 2019 Shanghai Writing Program, an event hosted by the Shanghai Writers' Association. The 11 writers will spend the next two months living in the city, making exchanges and writing about their stay in Shanghai.
Meanwhile, a host of literature exchange activities themed "2019 Shanghai Writing Program——Imagining Community" will be held for writers from home and abroad from today through September 27. These writers will gather and meet their readers to talk about the central theme of Imagining Community.
Since 2008, the Shanghai Writers' Association has played host to 89 foreign writers from 36 countries. The program is open to applications from established foreign writers and the selected writers will be offered a two-month residency in the city.
The organizer hopes that the program will also provide these writers an opportunity to get to know local writers and understand the literary side of the city through exploring the charm and range of literature, sharing writing experiences with readers, paying visits to writers' homes and communicating with teachers and students from middle schools and higher education.
The program is also supposed to offer inspirations for these writers in their future writing as they have enough time to walk around in the city, explore its history, experience the daily life of local people and feel the pace of development of the city.
This year, the selected 11 writers are Rewit Panipat (Thailand), Millicent Graham (Jamaica), Isabelle Wéry (Belgium), Noé Morales Muñoz (Mexico), Paulo Scott (Brazil) Gerard Woodward (U.K.), Gabriele Di Fronzo (Italy), Viola di Grado (Italy), Dorota Masłowska (Poland), Tuluciva Elena (Russia), and Arthur Abdul Hafez (Egypt).