Chinese major telecom operators announced the launch of commercial 5G applications in Shanghai, which will allow those with the few available 5G-China compatible smart phones to buy a subscription to access the network.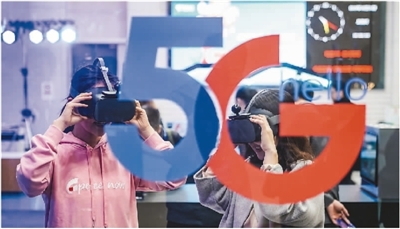 (Two consumers try on a 5G cloud VR set. Photo by Xinhua)
Soon after the launch ceremony at the Shanghai Communications Administration on October 31, China Mobile announced that a 5G base station on a building in Huangpu had officially gone into operation, making it the company's 5000th 5G station in Shanghai. As of mid-October, on a citywide scale, a total of 11,859 5G stations run by China Mobile, China Telecom and China Unicom, were already in use. It is reported that by the end of this year,5G signals will covermost of the city inside Shanghai's outer ring.
The three wireless providers will charge by data usage. To enjoy the peak data limit of 300GB, customers will pay about 599 yuan a month.
The Chinese government has made building 5G a national priority, cutting red tape and reducing costs so the three wireless providers can introduce the new technology as swiftly as possible. As 5G services are being sold to consumers, Shanghai is pushing forward the synergic development of 5G networks and the related applications, and the integration of the 5G industry chain, business chain and innovation chain. So far, the number of 5G applications being promoted across Shanghai has surpassed 200, mainly in the fields of smart manufacturing, smart healthcare, and smart transportation and urban management.