Since 1989, a series of Magnolia Awards have been given as recognition of the contributions foreigners in Shanghai have made to the city, and 42 foreigners recommended by the Huangpu District have won this award.
In order to commemorate the thirtieth anniversary of the Shanghai Magnolia Awards, Huangpu District plans to hold a celebration activity in November.
Eastday has therefore especially launched a series of exclusive interviews to review these award winners' stories in Huangpu District and Shanghai.
A New Zealand CEO's fashion secret
(Team Running Angel poses for a photo. Its slogan for the upcoming celebration activity is "With both health and pretty appearance: GO!GO!GO!")

Arun Kumar Bhardwaj, who has nearly 30 years of managing experience in the retail industry with multinational companies, has a career path spanning the whole Asia Pacific region. But the country that interests him most is China. In 2016, after working in Shanghai for three years, he joined a world-famous company, L Brands, the parent company of Victoria's Secret, to manage the Greater China business and thus open the door to the brilliant era of Victoria's Secret.
Speaking of this choice, Arun was filled with palpable excitement, "I was always very interested to work for a company that has such iconic brands. And then, the opportunity was in China. There is no greater more exciting, more challenging market than China in the world today." He said his mission is to introduce good brands into the prospective market of China. In Shanghai, a Chinese fashion mecca, he manages a fashion brand, while also keeping his own secret of life.
Showing the world Shanghai's charm
"Globally, women dominate 70 percent of purchasing power and consumption power," said Arun, President of L Brands Greater China managing Victoria's Secret, which specializes in women's underwear, fragrance and body care products. "Whatever type of product you work for, you cannot make it without marketing to women."
Under Arun's leadership, in 2016, L Brands Greater China settled in Shanghai; in 2017, the first Victoria's Secret full category flagship store in mainland China opened in Huaihai Road, Shanghai. It's a four-story pink palace of fantasy with a total area of 1,500 square meters, and the "First Store Effect" directly increased the overall sales of the commercial street. In the same year, Victoria's Secret Asia's first show was held in Shanghai, with more than 190 countries and regions around the globe broadcasting to show the charm of Shanghai to the world. "Shanghai is the fashion capital of China and the financial capital of China, with the most advanced commercial environment. There was no doubt from the beginning that they must be in Shanghai," Arun said, full of confidence in the city.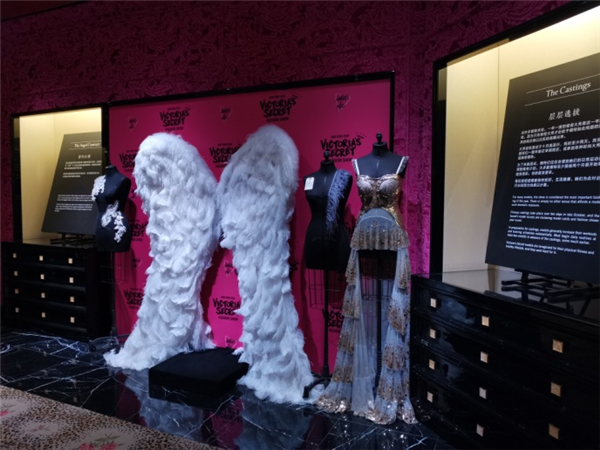 (The "Angel Wings" become an overnight sensation in the Shanghai flagship store)
As a well-known underwear brand in the world, Victoria's Secret has a long-standing reputation. Sexy, dreamy and gorgeous as Victoria's Secret is, its every show can attract huge attention in the fashion industry. In the past decades, thanks to shows and the increasing number of Chinese consumers traveling abroad, the brand has gained a certain popularity in China, said Arun. However, he and his team still need to make a lot of effort to seek the most suitable brand strategy for China and customize products that cater to Chinese consumers. "We have spent a lot of time and energy to understand Chinese customers' preferences for size, color and style, and have invited Chinese supermodels Xi Mengyao and He Sui as brand ambassadors to approach Chinese consumers."
In spite of the rapid development of e-commerce in the past three years, the development momentum of Victoria's Secret offline is still strong. It has more than 60 stores in the Greater China region, including Beijing, Shanghai and Hong Kong, as well as second and third tier cities such as Suzhou, Hangzhou and Nanjing, which shows the appeal of this brand in the Chinese market. And every store, in the words of Arun himself, "is a window to the world". Bricks and mortar help brands and consumers understand each other and better meet consumers' needs. Through one-to-one service and a queen-like shopping experience, they help consumers find "the most suitable products for themselves".
Digitalizing fashion
Fashion is a constantly changing industry, which can only grow through development and change. For the Chinese market, Arun pointed out frankly that L Brands was still learning. Although he already knows a lot about China, Arun still laments and marvels at the rapid changes of this huge market, especially the changes and challenges brought by digitalization, "China has developed into a market that almost any international brand cannot ignore." The most exciting thing for him is that the Chinese market has made great strides in the improvement of the shopping environment, the vitality of the retail industry, the diversification of brands and the strong consumption ability of customers. He believes that the integration trend of the offline retail and online digital worlds will grow faster, which is a reality that we all have to face. "Frankly speaking, all of us need to adapt to this new challenge," he said.
With the rise of online celebrity and live broadcasts, L Brands is also trying to carry out digital marketing, including the CRM (Customer Relationship Management) system to be launched next year, which can attact more consumers, and further understand them and provide more intimate services. Speaking of this, Arun came up with a series of names of Chinese social platforms: Wechat, Weibo, Little Red Book, Bilibili, and then smiled, "I've always been learning, or I'll be out."
In the view of Arun, it is also worth using what has been learned in China in other countries. "You can learn from China's experience in using social media for marketing to use elsewhere in Asia Pacific. In the world, China is also a leader in digital experience."
Giving back to others
In the eyes of his colleagues, Arun is a friendly and humorous boss who can always cooperate well with employees. He said it is his greatest pleasure to work with his team in China. "We give each other energy." One minute he was dressed in formal suits for a media interview, and the next minute he changed into a casual T-shirt and took a lively group photo with the staff. With keen observation, Anrun always cares about his employees. Once after a leadership meeting, he specially reminded one of his colleagues to pay more attention to her team members.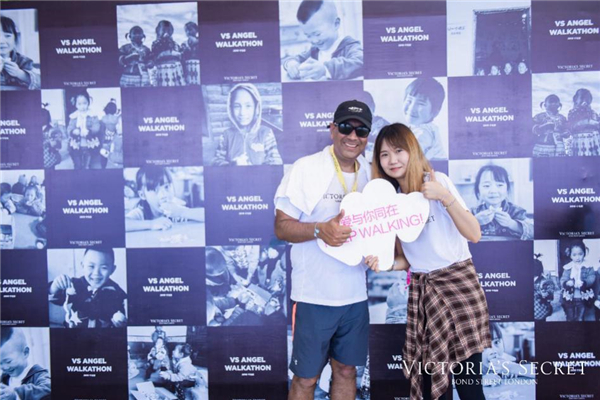 (Arun organized a charity run)
Charity with family is an important part of Arun's leisure life. "As a citizen, I have my own personal social responsibility, which can be called individual social responsibility (ISR). From a very early age, my grandparents and parents always taught me: you must do not only for yourself but also for others. So I try to do whatever I can, either by myself or with my friends, or sometimes with my family, try to do whatever I can to help."
In recent years in Shanghai, Arun and his wife have been helping the orphans and disabled children in the welfare home. They donate books and toys to these children via charity sales. At the same time, in order to support their son's public welfare project, the whole family has flown to a small village in Cambodia every year for three consecutive years to visit the local poor children, to build schools, to donate seedlings, and to provide oral care for them.
Chinese complex flows in his blood
As an "authentic" son-in-law of a Beijing woman, Arun has been to the capital many times. Beijing and Shanghai, in his view, have their own characteristics – one features a traditional spirit, while the other characterizes modern ideas. Because he often lives in Shanghai, Anrun has a closer relationship with Shanghai, and he appreciates the aggressive spirit of Shanghai. "Attitude is everything. The energy that Shanghai creates makes it a global city. That's the thing that makes it special."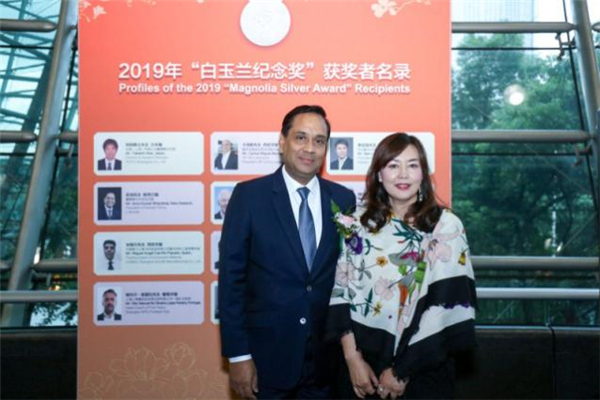 (Arun and his wife at the ceremony of the Magnolia Silver Awards)
This year, Arun won the "Magnolia Silver Award" issued by the Shanghai municipal government, which is the second Shanghai municipal honor he has won: in 2017, on behalf of L Brands, he received a certificate for being part of the 28th batch of regional headquarters of multinational companies in Shanghai from the mayor of Shanghai. In September this year, as a representative of a "Foreign Model Worker", he won one of the highest honors granted by Shanghai to foreigners. The downstairs of Arun's office on Huaihai Road, is Victoria's Secret's flagship store, and the office area is also gathered with the most popular brands and flagship stores from around the world. Arun said that there are still many things to do in the future, and he and his colleagues will continue to work hard to give back to the city.