On the latest Elite List Under 30 Years Old newly launched by Forbes China, Huan Hengwei, was a new name. A senior student from Shanghai Dianji University, the 25-year-old once suspended his schooling to start up a business and has now reaped success with his garbage-sorting program.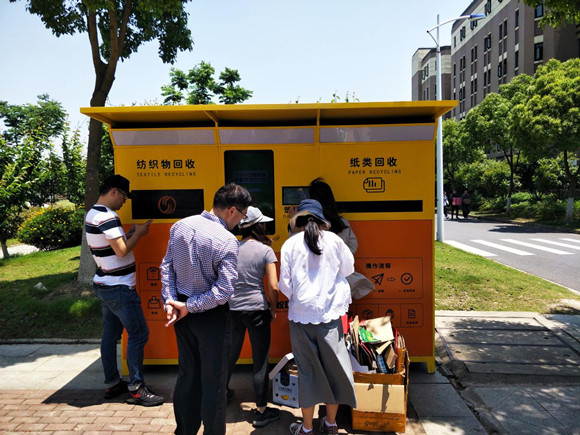 In 2015, Huan started his entrepreneurship road in the fields of shared bikes, shared buses and outdoor projects. He didn't explore deeply in the recycling industry until in 2018. In November 2018, Huan set up his own environmental protection science and technology company. The startup team was comprised of 7 people and focused at the beginning on the recycling of old clothes. This year, it developed its own intelligent recycling bin, greatly boosting people's enthusiasm for waste sorting.
Speaking of the recycling industry, Huan said that he was once involved in the waste recycling industry and thus got to know that the recovery rate of old clothes was extremely low, and most of the old clothes were burned, not only wasting resources but also damaging the environment.
Statistics show that in 2018 alone, the national waste paper transaction volume reached 100 billion, but the textile recycling rate was only 15%. "The waste recycling industry has existed for decades, and it is indeed a profitable industry," said Huan. Therefore, his business model is to integrate offline intelligent sorting and recycling, an online Internet operation, and back-end big data management through a paid waste sorting and recycling project, so as to form a complete ecological chain for waste recycling.
The waste recycling bins his team designed are currently placed in tens of Shanghai campuses and also communities in Nanjing, Guangzhou, Ningbo and Wuxi for users to earn 0.2 yuan per kilogram of textiles, 0.6 yuan per kilogram of papers and 0.03 yuan for each plastic bottle.
"This will realize an 80% recycle rate since it allows people to achieve something when doing garbage sorting, and at the same time they can expand the circular economy," explained Huan.
This year, his team has completed several rounds of financing and received a lot of orders. In the near future, they plan to place the recycle bins in all the famous universities in the Yangtze River Delta region to form a matrix network and reduce logistics costs, and cooperate with large enterprises to distribute the recycling bins in the most iconic areas of 46 cities.