While Chinese food is popular all over the world, in countries like Italy the dim sum menus in most Chinese restaurants are usually limited to items like the traditional spring rolls and steamed dumplings. However, because of a recent food exchange program, a chef delegation from Shanghai has updated Italians' knowledge of Chinese dim sums.
(An Italian chef gives a thumb up to Chinese dim sums)
After tasting the dim sums made by chefs from the famed Lu Bo Lang Restaurant, the Italians gave a thumb up: Chinese chefs are amazing. "They are now looking at Chinese food in a totally different way," said Lu Yaming, general manager of Lu Bo Lang.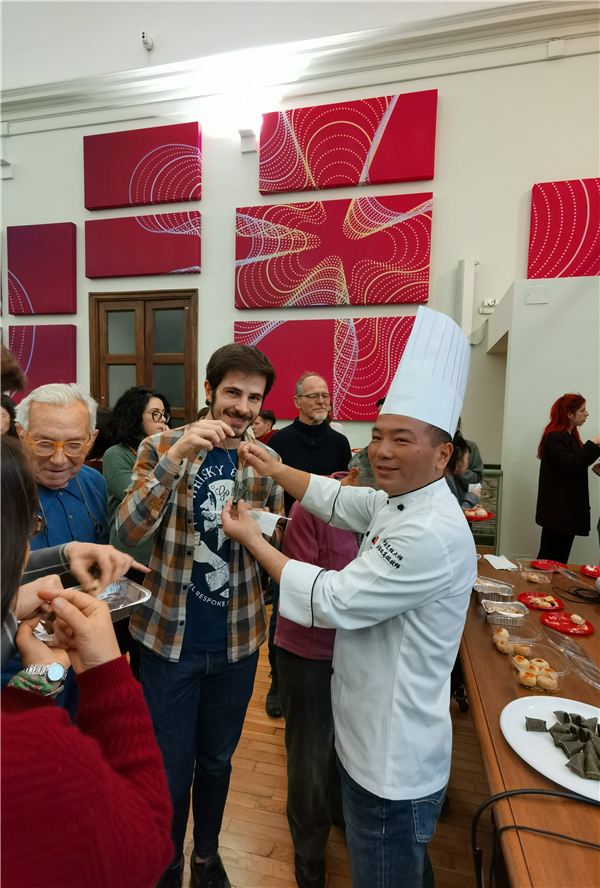 (Lu Yaming introduces mini zongzi to a student at the Confucius Institute)
On November 26-27, Lu and his team were invited by the Confucius Institute of the University of Turin for the food exchange program. Upon arriving at the airport, they did not take a break and went to the hotel directly for preparation, regardless of the jet lag. In order to present the best of Lu Bo Lang's signature dim sums as well as its culture and story, they did not want to waste a second.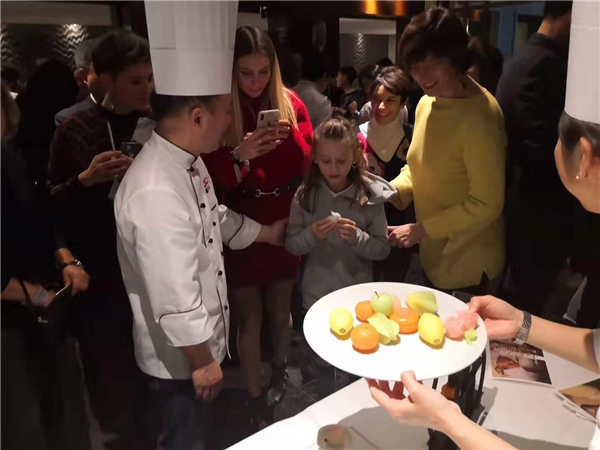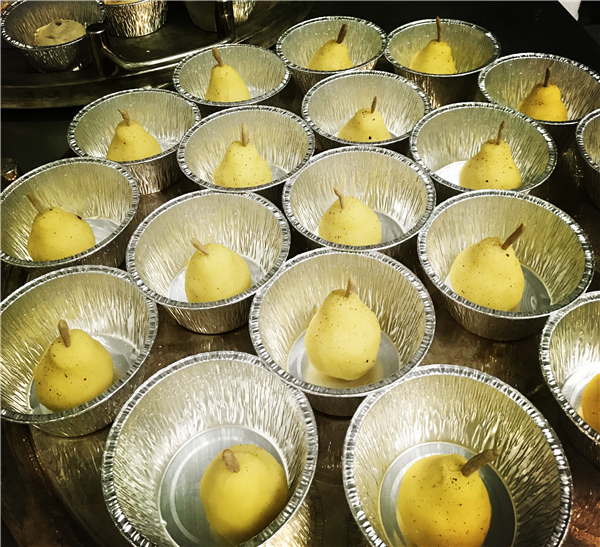 (Dough can be made into different shapes, like fruit and animals.)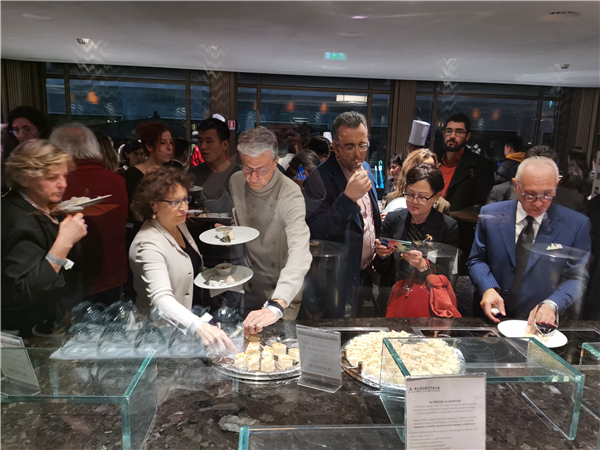 (Sweet-scented osmanthus rice cake is nicknamed Clinton cake, as it is favored by Bill Clinton)
On November 26, Lu also gave a lecture at the Confucius Institute and told the audience about Chinese dim sums, food culture and Lu Bo Lang's stories with many heads of states who paid a visit to the restaurant. He also showcased some dessert samples for the Italians to have a bite. Looking delicate and lovely, Lu Bo Lang's handmade dim sums such as red date pastry, sweet-scented osmanthus rice cake, and shredded turnip cake, have won many people's hearts over the past years. To help the locals better understand, Lu Yaming used simple words in his introduction. For instance, while introducing red date pastry to the Italians, Lu said, "This is Chinese chocolate."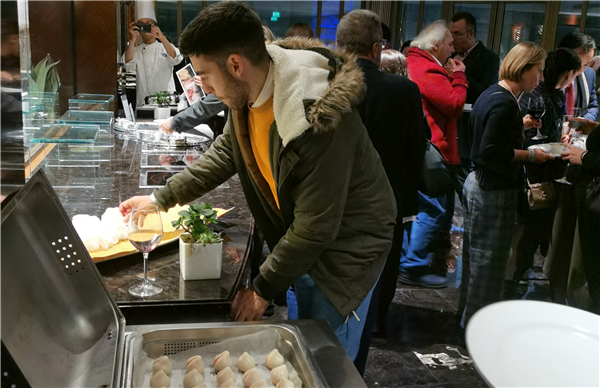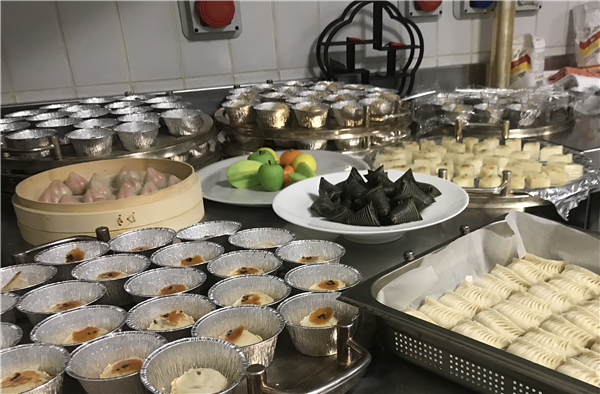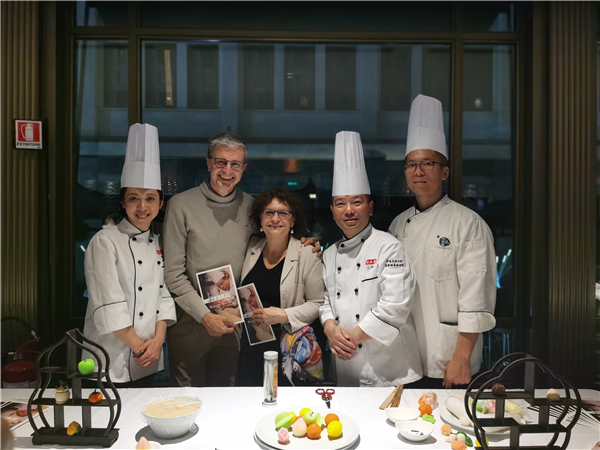 (The dim sums are popular among the locals.)
More importantly, Lu Yaming wanted to share his experience of how to prepare state banquets. Starting from the reception of Prince Sihanouk of Cambodia in 1973, Lu Bo Lang has received over 80 foreign heads of state as honored guests, like former US president Bill Clinton, former Argentine president Carlos Sasit, and former Cuban president Fidel Castro. It is now an important place for foreign affairs reception. In 2018, it prepared a set of dim sums for the welcoming banquet hosted by Chinese president Xi Jinping. The exquisite technique and the visual appeal of the Chinese dim sums wowed the foreign guests.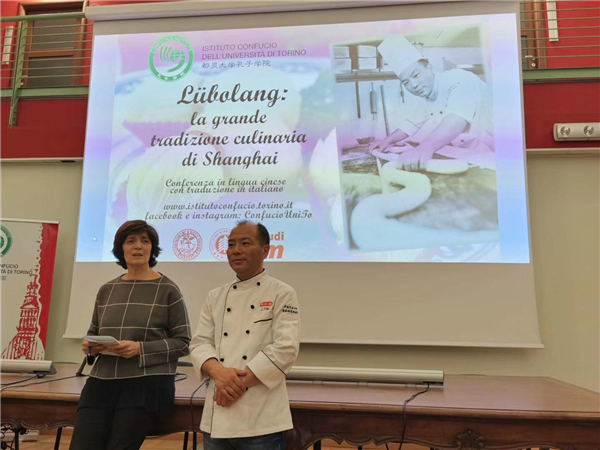 (Lu Yaming (right) gives a lecture at CIUT)
However, for Stefania Stafutti, Foreign Director of the Confucius Institute of the University of Turin (CIUT), she had not learned about Lu Bo Lang until Xi Jinping's visit to the CIUT early this year. With strong interest in the Shanghai restaurant, she searched online for its information and flew to Shanghai to meet Lu Yaming, inviting Lu and his team to go to Italy. Moved by Stefania's sincerity, Lu led a chef team to Turin this week for a food exchange program.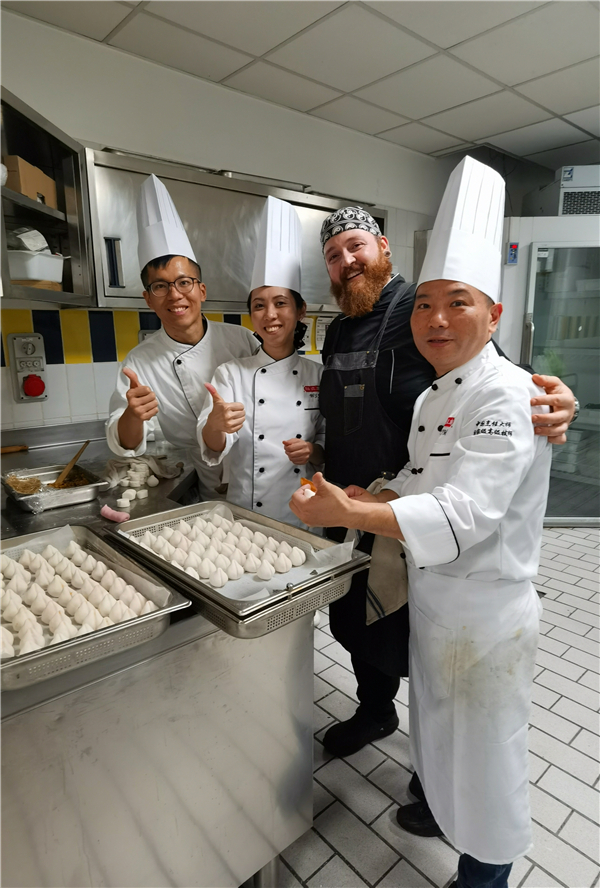 (An Italian chef is interested in making a peach-shaped cake)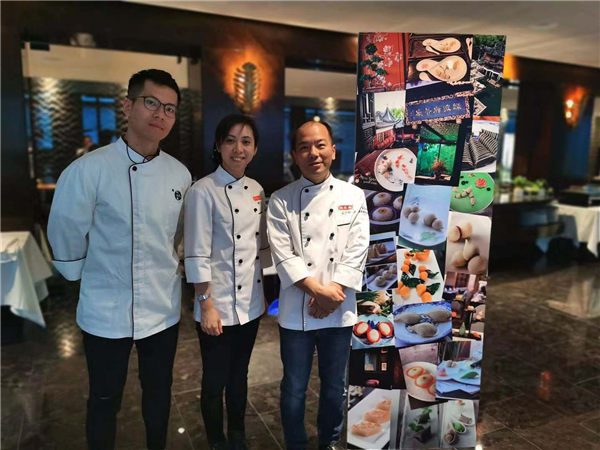 (Lu Yaming and his colleagues)
It proved that the program was a big success. People from other countries also heard of the activity and came to have a taste of Lu Bo Lang's dim sums. Lu was even asked by some professionals from a French food association to hold food exchanges later in France.
(Photos provided by Lu Yaming)